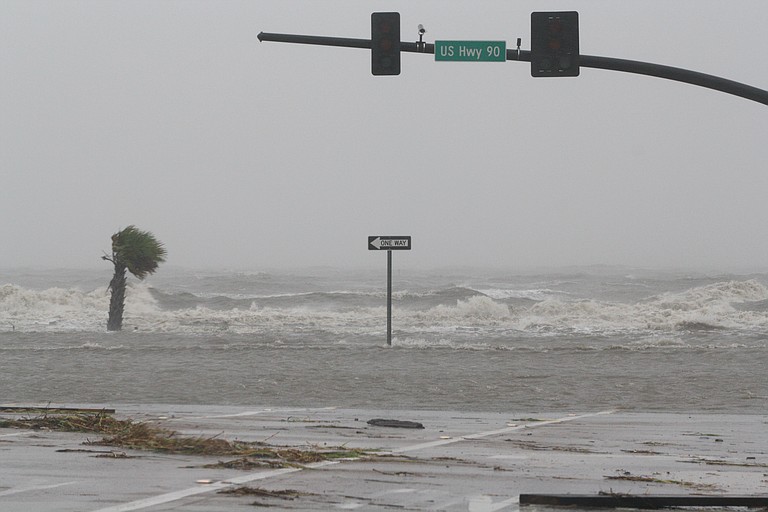 Wednesday, August 29, 2012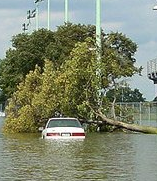 Get links to updated tropical storm/hurricane info here.
GULFPORT, Miss. — The conditions along the Gulf Coast have deteriorated Wednesday afternoon as Hurricane Isaac has moved further inland over Louisiana.
Around noon, the persistent rain and wind began to pick up, ripping down billboard signs and street lights, and spreading flash floods across coastal neighborhoods and highways.
The storm continues to move northwest at a speed of 6 mph, just west of New Orleans. Areas of the Mississippi coast had received as much as 10 inches of rain as of 1 p.m., a number that continues to climb as Isaac continues to dump constant rain on the area. National Hurricane Center Director Rick Knabb said about 1:30 p.m. that the coastal cities of Mississippi and Louisiana were about halfway through the storm, and can expect as much as 20 inches of rain before Isaac has passed.
The storm surge will likely get as high as six to 12 feet above the ground along the coast. With the rain, the surge will likely create much more flooding before it clears the coast.
Officials from the National Hurricane Center and FEMA are urging anyone who does not have to be on the roads to find shelter and remain indoors. Emergency personnel from the Red Cross, power companies and other organizations will not respond to calls until after winds calm down. The coastal counties are currently experiencing tropical-storm-force winds with gusts upwards of 50 mph, which Knabb said will likely last well into Thursday morning.
"While essential, life-saving activities are just being initiated by local and state officials, other activities such as power restoration or moving supplies to the area won't be able to move until these winds come down to a safe level to operate," FEMA Administrator Craig Fugate said.
FEMA is currently working with the coastal-state leaders to assess what they need and will need after the storm.
The center of the storm, which is currently a category 1 hurricane, will likely slow to a tropical storm sometime Wednesday night, Knabb said.
"The category of the storm doesn't capture all the hazards," Knabb said. "That category 1 is just for the max sustained wind. The storm surge is six to 12 feet and rain fall totals up to 20 inches are numbers that will get people's attention."
Knabb said Jackson and central Mississippi can expect extended heavy rains and winds that will lead to flash flooding across the region.
"There is definitely a significant inland flood threat in Jackson, Mississippi, not to mention gusting winds that can take out power and the threat for isolated tornadoes," Knabb said. "That will spread farther north in Mississippi as the next day to two days go on. So please, in Mississippi, do not take this lightly."
When the rain starts, stay off the roads. Knabb said he has seen a lot of people lose their lives driving in flood conditions far inland during hurricanes.
The National Hurricane Center does not expect the storm to get through Louisiana and reach Arkansas until Thursday night. Knabb said he expects three to six inches of rain to fall on southern Arkansas by Friday night.