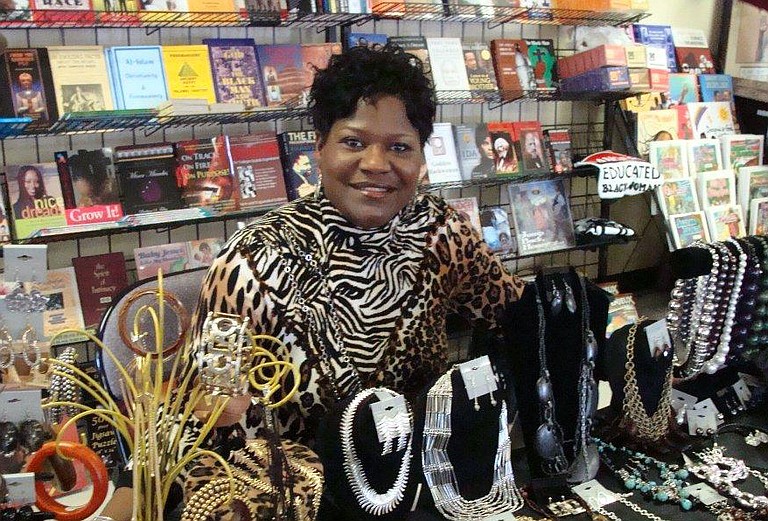 JACKSON — Lillie's New Pad
Lillie Naylor's friends have a running joke about her jewelry business she started out of her home in 2006.
"They call it 'Lil's On Wheels.' I take the show on the road," she said, because she's also a vendor at trade shows and other events.
Lil's specializes in unique, affordable accessories and jewelry pieces, some of which Naylor handcrafts. Because people were so pleased with her merchandise, Naylor moved the business into a brick and mortar building last year.
On Aug. 6, Naylor had an official ribbon cutting ceremony for Lil's (430 Bounds St., Suite T; 750-0783). Prices range from around $5 for earrings to $60 for handbags. Lil's celebrates her one-year anniversary during August and September, when customers get 10 percent off all merchandise.
Originally from Lisman, Ala., Naylor came to Mississippi to attend Jackson State University. After she graduated in 1982 and married her husband, Bobby, she decided to make Jackson home.
Lil's is open by appointment through the week. Visit www.jewelrybylils.com for more information.
Biz Bonanza
Here's a list of grand openings and ribbon cuttings taking place around the city in the coming days, courtesy of the Greater Jackson Chamber Partnership:
Friday Tuna Thursday, Aug. 23 at 4:30 p.m. 6390 Ridgewood Road
ROCK 939.com Thursday, Aug. 30 at 4:30 p.m. The Fondren Corner Building, 2906 N. State Street Food and Drink will be provided by Basil's, Rooster's, & Southern Beverage
Wasabi Sushi And Bar Thursday, Aug. 30 100 E. Capitol Street, Suite 105, 5 p.m. Cocktail party starts at 7 p.m.
Skinny's Northeast Nutrition Wednesday, Sept. 5 at 10:30 a.m. 1491 Canton Mart Road, Ste. 15
Dr. Paula Stewart, DMD & Associates Family Dental Center Thursday, September 20 at 4:45 p.m. 4500 I-55 North Highland Village, Ste.; 235,
UMMC Has a Heart The University of Mississippi Medical Center is getting $2 million for a new children's heart center. The money comes from the Friends of Children's Hospital, which raises money for Batson Children's Hospital.
In the past two years, the hospital's pediatric cardiovascular programs have undergone rapid growth thanks to the additions of several congenital heart surgeons and pediatric specialists.
Before those physicians arrived, doctors had to send Mississippi kids with congenital heart defects out of the state for health care. The UMMC children's heart team performs more than 400 operations a year.
Wall Street
Is greed good? Mississippi's young people can learn the risks and rewards of the market economy by signing up for the Mississippi Stock Market Game, sponsored by the Mississippi Council on Economic Education.
Here's how it works: Teams of three to five students get $100,000 in fake cash to invest in the stock market and compete to see whose portfolio performs the best at the end of the 15-week programs (one in the fall and another in the spring).
The goal is to encourage the kids to make strategic decisions and learn how their investments affect world events. The Jackson program takes place Sept. 13 and is open to 4th through 12th graders. Visit mscee.org for information.
Main Street
The Mississippi Main Street Association has new members throughout the state, including several from Jackson. The association promotes economic development through historic preservation. At the first meeting of the new fiscal year, the organization welcomed Barry Plunkett of B. Plunkett & Associates, Inc. (president) and Joey Hudnall of Neel-Schaffer (president-elect), both of Jackson, to the 2012-2014 board. Wyatt Waters, an artist and owner of Wyatt Waters Art Gallery in Clinton also became a board member.
Greening Jackson
On Saturday, Aug. 25, the city of Jackson hosts a recycling day from 8 am to 2 pm at Battlefield Park (Highway 80 and Terry Rd.). Residents can drop off their hazardous and electronic waste such as antifreeze, pesticides and insecticides, oil and gas, lawn chemicals, paints, batteries, photo chemicals, propane tanks, computers, televisions, VCRs, computer printers and keyboards.