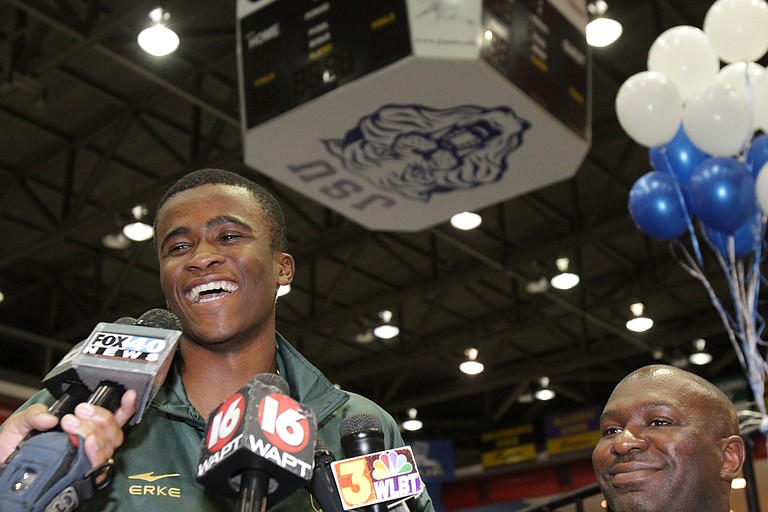 Thursday, August 16, 2012
Jackson State University welcomed back one of its Olympians yesterday. Sprinter Anaso Jobodwana represented his home nation of South Africa in the 200-meter dash in the 2012 London Olympics.
Jobodwana, who hails from Eastern Cape, South Africa, received All-American honors last March in the NCAA National Indoor Track and Field Championships. He set a personal best of 20.66 seconds to win his preliminary heat, but finished eighth in the final.
In the SWAC Outdoor Track and Field Championships, Jobodwana finished first in the 100-meter dash with a time of 10.37 seconds and first in the 200-meter dash with a time of 20.74 seconds. He left JSU to run in Europe so he could achieve the high Olympic standard set by South Africa.
While other nations only require an athlete to achieve an Olympic standard time once, South Africa requires its athletes to achieve the feat twice. Jobodwana first qualified for the 200-meter event with his 20.32-second time at the Mississippi Invitational at Ole Miss.
To make the South Africa team, Jobodwana would need a second time below the required mark of 20.55 seconds. The 20-year-old reached the goal at Velenje, Slovenia, coming in at 20.50 seconds to make the Olympics.
In London, Jobodwana finished second in his first Olympic 200-meter heat, clocking in at 20.46 seconds and moved on to the semifinals. The sprinter advanced to the finals of the 200-meter dash, where he finished second to Usain Bolt with a time of 20.27 seconds.
University of Mississippi athlete Isiah Young was in the same semifinal heat with Jobodwana and Bolt, but Young finished last in the heat and failed to move on.
Jobodwana faced one of the toughest fields in the 200-meter event in Olympic history. The field included Jamaicans Bolt, Yohan Blake and Warren Weir, who finished first through third, and American Wallace Spearman, who finished fourth. The final of the 200-meter dash was not kind to Jobodwana who finished last, in eighth place. Still, London was a success for the JSU sprinter, who ran a personal best of 20.27 seconds in the semifinal.
Jobodwana should only get better as a sprinter. Most sprinters don't reach their peak until their late 20s to early 30s. On his current path, it should be a given that Jobodwana will be in Rio de Janeiro in 2016. That should set up a great match up of Bolt against Jobodwana.