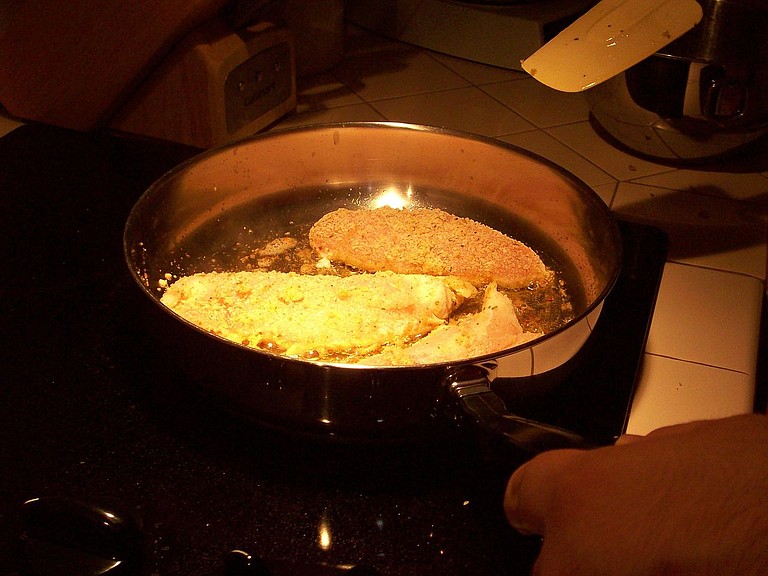 Wednesday, August 15, 2012
I absolutely love cheese. I can eat cheese on rice, grits, oatmeal, grilled-cheese sandwiches, eggs—I could go on and on like Bubba in "Forrest Gump." I also love one-skillet meals. They are convenient and less of a hassle to clean up afterward.
This creation is a combination of my love for cheese and my dislike of cleaning up after I have consumed such a fabulous meal. In this recipe, you can use a combination of vegetables—corn, English peas, broccoli, Mexican corn—or any vegetable that will cook in a short period of time.
Parmesan Chicken
Prep time start to finish: 30 minutes
3/4 cup plain flour
1 teaspoon Italian seasoning
2 tablespoons Parmesan cheese, grated
1 egg
4 boneless, skinless chicken breasts
3 tablespoons olive oil
2 cups spicy tomato pasta sauce
1 cup (4 ounces) four-season cheese blend, shredded
1 small can English peas, or any combination of vegetables of your choice. Mixed vegetables would do well.
In a shallow pan, mix flour, Italian seasoning and Parmesan cheese. In a separate container, beat the egg. Coat chicken with the flour mixture (make sure that the chicken is completely dry), then dip into egg and coat again with the flour. Bump the chicken to remove any excess flour.
In a 12-inch nonstick or cast-iron skillet (spray the cast iron skillet with a light, nonstick cooking spray), heat oil over medium heat. Add chicken; cook four to six minutes, turning once, until golden brown.
Cover and cook eight to 10 minutes longer, turning once, until juice of the chicken is clear when you cut into the thickest part's center.
Remove the chicken from skillet to plate. Add pasta sauce and vegetables to skillet. Place chicken on top of sauce. Sprinkle with the four-season cheese blend.
Cover and cook two to three minutes or until bubbly and cheese is melted. The chicken will be moist and juicy because of the breading. Serve with spaghetti, broccoli and a tossed salad.