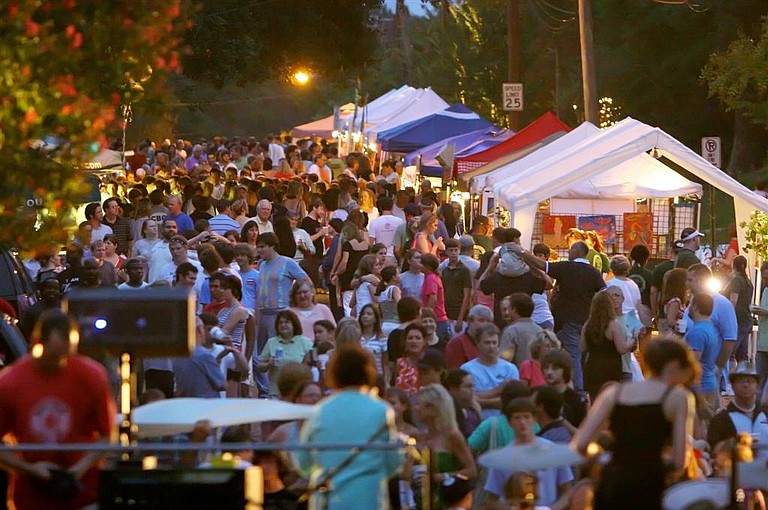 With five music stages, a free raffle, food from various local restaurants and a plethora of street vendors, Belhaven's Bright Lights, Belhaven Nights might be one of the most anticipated festivals of Jackson.
"I'm excited to have 3,000 people over to dinner tomorrow," says Virgi Lindsay, the executive director of the Greater Belhaven Neighborhood Foundation. The neighborhood festival brings Belhaven residents out of their homes to celebrate the area's development with the rest of the city.
One of the biggest features of the festival is the music. Each of the five stages has a different theme: acoustic, indie rock, blues, Celtic and jazz. The line-up includes The Weeks, Anna Kline and Grits & Soul, and Jesse Robinson. Southern Komfort Brass Band will also perform at various points throughout the day second-line style.
Bright Lights, Belhaven Nights came about eight years ago as a way to display the growth and development of the area as well as to show the growth of southern culture in general. "I felt as if we were living in a very special place and amongst very special people and needed a way to show the community's spirit as well as the progress the area has made," Lindsay says. "To shine a light on the history of Belhaven but also to show the future of the area."
The University of Mississippi Medical Center sponsors the festival's children's space, which includes exhibits from the Mississippi Children's Museum and the Mississippi Museum of Natural Science, music and games. While the festival is until 9:30 p.m., the children's area closes at 7:30 p.m.
"We really wanted to create a niche opportunity for our area that promotes Greater Belhaven and beyond," Lindsay says.
Bright Lights, Belhaven Nights is Aug. 11 from 5:30 p.m. to 9:30 p.m. See the complete schedule here. It costs $5 for those over 13 years old and $1 for those under 13. Free parking is available at the Baptist Medical Arts East complex at the corner of Carlisle and North streets. For more information, contact Betty Smithson at 601-352-8850 or at [email protected]