Document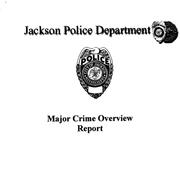 JACKSON — Major crimes in Jackson are down 20 percent from last week.
For the week of July 30 to Aug. 5, a total of 203 major crimes were reported in Jackson compared to 255 in the previous week.
Of that total, 172 were property crimes, a 16.9 percent drop from the 255 last week.
Violent crimes are down 7 percent from a week ago. Through Aug. 5, violent crimes are up 8 percent over last year.