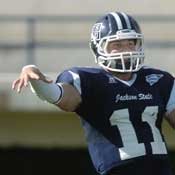 Thursday night in primetime, the NFL Draft kicks off with the first round. Over the next three days, college stars will wait by the phone hoping it rings, making their dreams of becoming an NFL player come true.
Former Jackson State star Casey Therriault will be one of those players waiting by the phone. Therriault broke several records during his short time with the Tigers, including five single-season records. After two prolific passing seasons at JSU, the quarterback's next step is proving himself in the NFL. Therriault has worked out in front of scouts three times, including JSU's Pro Day, but no teams had individual workouts with the quarterback.
Two things are hurting Therriault's draft stock. The first is his well-publicized connection to a fight in which a death occurred; the other is the talent level in the SWAC, which has fallen off in the past decade. Therriault is unlikely to hear his name called in the first two days of the draft (Thursday or Friday) but there is a chance on the final day of the draft (Saturday). Teams looking for a quarterback to develop would do well to take a chance on the JSU star in the late rounds of the draft.
Even if he does not hear his name called in the NFL Draft, Therriault could still have a chance to make the NFL as an undrafted free-agent. Teams can begin to sign undrafted players as soon as the Indianapolis Colts make the 253rd pick on Saturday. Doing some draft research, it looks like Therriault's best chance to be drafted will be in the fifth to the seventh round, but more than likely he will be a free-agent. There is a chance for Therriault to succeed through either route.
Last season, the Houston Texans took T.J. Yates out of North Carolina late in the fifth round and he won a playoff game this past season after injuries to the team's other quarterbacks. Dallas Cowboys quarterback Tony Romo was undrafted out of Eastern Illinois and has become a star.
In the right situation with the right team, Therriault can live his dream of being an NFL quarterback. There are plenty of stories of quarterbacks being drafted late or going undrafted for Therriault to follow that same path.