Wednesday, April 25, 2012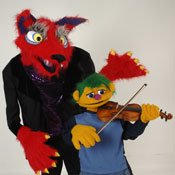 "Dum dum da dum dum dum," the strings sing in my mind as I stroll down a sunny sidewalk on Lamar Street to speak with Mississippi Symphony Orchestra Executive Director Michael Beattie. I soon start humming the melodies from "Peter and the Wolf" to myself as they spring up from my childhood memories in anticipation.
On April 28, an exciting mixed-media artistic experience is coming to town. The Mississippi Symphony Orchestra is bringing in Madcap Puppets, a lauded puppetry troupe from Cincinnati, Ohio, to participate in a performance of Prokofiev's "Peter and the Wolf" and Stravinsky's "The Firebird" along with the orchestra.
"Whenever you hear puppets, you think kids," Beattie says with a laugh, "but these are two of the finest composers of symphonic music, and this will be an interdisciplinary arts experience of the highest quality. I can tell you this: I am going to be in the front row!"
The Mississippi Symphony Orchestra certainly hopes to bring families and kids to enjoy the matinee performance, but they want anyone who enjoys music to come experience what Beattie describes as a "marriage between orchestra and puppets."
This magical collaboration brings together outstanding artists. Madcap is a nationally recognized puppetry troupe that partnerswith schools, museums,librariesand other entities to bring the arts to children. The troupe also takes on a variety of environmental issues, social concerns, and even conflict-resolution skills through its performances and workshops.
What can you expect to see and hear in this performance? "Peter and the Wolf" will be performed on the Thalia Mara Hall stage in front of the orchestra with colorful, life-size, three-dimensional puppets. A different instrument or section of the orchestra represents each character in the story. The strings represent Peter, for example, while clarinets "perform" the cat. Each character also has its own distinctive melody. For this reason, generations of parents have used "Peter and the Wolf" as an excellent introduction to the orchestra for children.
Madcap will use a different puppetry medium for "The Firebird." This classic Russian fairy tale will come to life with the orchestra on stage in front of a large screen. Behind the screen, Madcap artists will perform stunningly intricate shadow puppetry to tell the story of an enchanted bird that performs great magic in exchange for its freedom. Audiences may be less familiar with this story than with "Peter and the Wolf," but Michael Beattie enthusiastically describes a vibrant fantasy suitable for all ages.
When you watch this stunning performance of two different composers and two different puppetry styles, you may be surprised to discover that despite the incredibly professional product, the musicians will have only one rehearsal with the full orchestra and the musicians and the puppetry troupe together will have only one rehearsal before putting on what promises to be a seamless visual and auditory experience.
The fun doesn't end at the conclusion of the performance. Stay for the hands-on post-performance activities in the Mississippi Museum of Art's Art Garden, organized by the Mississippi Symphony Orchestra, the Mississippi Children's Museum, the Mississippi Museum of Art and the Mississippi Puppetry Guild. This is a time to meet the artists, make puppets and get acquainted with various orchestra instruments.
Whether you're young or young at heart, whether you are well-versed in musical theory or simply like the idea of spending a Saturday afternoon listening to great music, this performance is something you shouldn't miss.
See the Mississippi Symphony Orchestra and Madcap Puppets perform "Peter and the Wolf" and "The Firebird" Saturday, April 28, at 2 p.m. at Thalia Mara Hall (255 E. Pascagoula St., 601-960-1537). Ticket prices start at $15 (some reduced price tickets are available for ages 4-18 accompanied by a paying adult). For more information and tickets, visit http://www.msorchestra.com.
What's That I Hear?
No matter your age or level of musical experience, Michael Beattie offers a few questions to think about while you listen to the symphony performance. From a basic level of music appreciation to an in-depth discussion of musical theory, these questions will get you started.
1. What did I just hear? How can I describe its elements?
2. Is that melody new, or have I heard it earlier in the performance? If it is repeated, how has it changed?
3. What is each instrument playing? What is the effect?
4. How do the images and puppetry actions connect with the music?