Wednesday, April 18, 2012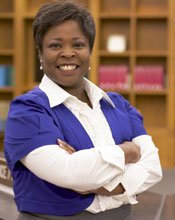 There are cliches for a reason, and Dr. Nikisha G. Ware, the executive director of the Mississippi Learning Institute is an example of one: Dynamite comes in small packages. The 4-foot-9 diminutive mother of two is a bundle of articulate, expressive energy that radiates with enthusiasm and intelligence. The 38-year-old Jackson native—"my mother still lives on the same street where I grew up," she says—has a bright and easy smile.
Ware graduated from Murrah High School in 1991 and attended Tougaloo College on a piano scholarship, graduating in 1995. She taught choir in several of Mississippi's public schools and will start teaching her own children piano this summer. (They are already learning the trumpet from their father.)
Ware received a master's in music education from Florida State University in 1998 and a doctorate in community college leadership from Mississippi State University in 2010.
At the Mississippi Learning Institute, located on the Jackson State University campus, Ware leads Mississippi's only partnership between a public school system and a university. This partnership provides professional training and development to teachers in the areas of reading, literacy and instructional strategies to improve student learning.
The institute recently expanded and is providing training that helps families in the Washington Addition neighborhood get children ready for kindergarten with the premise that "parents are the child's first teachers." The institute is funded through grants from various organizations such as the U.S. Department of Education, the Barksdale Reading Institute and, most recently, the Kellogg Foundation.
Ware lives in Jackson with her family, who she calls "The Kings," explaining that they are all named for biblical kings. She and her husband, Dr. David Ware (an associate professor of music at JSU from Anguilla, Miss.), adopted their first son and named him Solomon, and when their youngest son was born, they named him Asa.
"As an educator who loves Jackson, I recognize that it has everything: a law school, a medical school, wonderful public schools, great four-year institutions, (and) historical and state-of-the-art museums," she says.
Ware also sees areas where the city can improve. "Jackson needs leadership in all aspects and in all levels of government--leadership matters," she says. "Lead from where you are. You don't have to be the police chief to make your streets safe. Policing is a community job. Supporting your community is your job. Finding and supporting the right candidate is your job."
When considering elected leaders, she is quite blunt: Bring excellence; "otherwise, we are going to free up your future."
Previous Comments
ID

167640

Comment

This woman is absolutely magnificent. She believes in her job and has commited herself to the education of our young people (and has done so for many years). Great person of the day!

Author

Queen601

Date

2012-04-20T08:12:55-06:00
ID

167659

Comment

Hats off to Dr. Ware! We need more like her! Her attitude and perspective about Jackson is "spot on"!

Author

833WMaple

Date

2012-04-25T07:39:08-06:00