Wednesday, April 11, 2012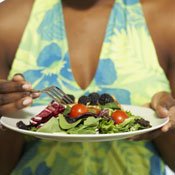 When you are on the go, it can be difficult to find portable and healthy foods that still satisfy your hunger. Planning ahead and packing smart solve the dilemma.
These quick ideas take little preparation. The foods are packed with essential vitamins and are sure to give you the fuel to help you make it through your day.
Sandwiches are easy lunch items to prepare. Choose whole wheat bread and lean meats like turkey, ham and roast beef. Load up your sandwich with lots of fresh veggies loaded with vitamin C such as spinach, tomatoes and peppers.
Salads also make great go-to lunches. Prepare salad items the night before. Protein is important for muscle health, so add lean protein such as chicken or tuna packed in water. Garnish your salad with almonds, walnuts or dried cranberries for added punch.
Pre-cut carrots and celery are great alternatives to fast-food chips and fries. Carrots contain lots of vitamin A, which promotes a healthy immune system. For convenience, place the veggies in small lunch bags in single servings. Dunk them in your favorite low calorie dip or salad dressing.
Soup is another quick and easy lunch alternative. You can make your own or purchase reduced- or low-sodium options. Soup will help to fill you up before your main meal--a way to make sure you don't overeat.
Fresh fruit and fruit cups are excellent additions to your lunch. Berries such as blueberries, raspberries and strawberries are high in antioxidants and dietary fiber. Fruit can also satisfy your sweet tooth if you are a dessert lover.
If you don't have time to prepare your lunch ahead of time, look for healthier items now available on many fast-food menus:
• Choose chicken or fish instead of beef.
• Choose grilled options over fried.
• Choose a side salad or baked potato instead of french fries.
• Use low-fat or vinaigrette dressings.
• Drink water, iced tea or juice instead of sugary soft drinks.
• Avoid condiments such as mayonnaise and sandwich dressings; substitute mustard instead.
• Remember that portion size is important. If the serving is big enough for two people, split it with a friend or save the other half for later.