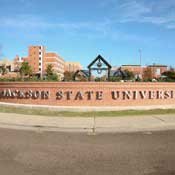 Today, KidFest! Kicks off at 9 a.m. at Freedom Ridge Park (235 W. School St., Ridgeland); continues through April 7 and April 14-15. $10, children under 2 free; call 601-853-2011. The nonviolence concert in honor of Nolan Ryan Henderson is at 5 p.m. at F. Jones Corner. Performers include Jesse Robinson, PyInfamous and the Bailey Brothers. Free. Luke Bryan and Jerrod Niemann perform at 7:30 p.m. at the Mississippi Coliseum. $29.50-$39.50; call 800-745-3000. Wine, Women and Wisdom kicks off at 8 p.m. at Yellow Scarf (741 Harris St., Suite E) with performances from Rhonda Richmond and Tawanna Shaunte. Cassandra Wilson and Mystic Warriors perform April 7 at 9 p.m. $25 April 6, $35 April 7, $50 both nights; call 866-308-9226. TTOCCS REKARP Productions hosts the Free Form Concert at 9 p.m. at The Commons. Performers include daniel johnson and Jonathan Sims. $5; call 601-352-3399 or 601-540-1267. Need more options? See our Best Bets.
On Saturday, the Hoops for Hope Basketball Tournament is at 9 a.m. at Jackson State University (1400 John R. Lynch St.) in T.B. Ellis Gymnasium. Proceeds benefit the Capitol Street Boys & Girls Club. $5, $3 children ages 4-17, children under 4 free; call 601-969-3511. Easter options for children include Hop Around the Welty Porch at 10 a.m. at the Mississippi Children's Museum (2145 Highland Drive; $8, children under 12 months and members free; call 601-981-5469), an Easter egg hunt at 10 a.m. at Liberty Park (694 Liberty Road, Flowood; free; call 601-992-4440) and an Easter egg hunt at noon at Battlefield Park (953 Porter St.; free; call 601-960-0655). The opera simulcast of "Manon" is at 11 a.m. at Tinseltown (411 Riverwind Drive, Pearl). $22, $20 seniors, $15 children; call 601-936-5856. Burn the Dance Floor at Salsa Mississippi (605 Duling Ave.) Includes free dance classes at 6 p.m. and a salsa party at 10 p.m. $10, $5 with college ID; call 601-213-6355. Tougaloo College's Two Rivers Gala is at 7 p.m. at the Jackson Medical Mall (350 W. Woodrow Wilson Ave.) At the Thad Cochran Center. Eric Benet headlines the show. $100; call 601-977-7871 or 800-745-3000. Brian Fuente, Shelly Fairchild and Jason Turner perform at 8 p.m. at Duling Hall (622 Duling Ave.); cocktails at 6:30 p.m. $12 in advance, $15 at the door; call 601-292-7121 or 800-745-3000. OutSpoken is the featured poet during Nameless Open-mic at 9 p.m. at Suite 106. $5, $3 to perform; call 601-720-4640. George Porter and the Runnin' Pardners perform at 9 p.m. at Underground 119. Dax Riggs is at Hal & Mal's. For more events, check out the JFP Events Calendar.
On Sunday, Andy Hardwick performs during Fitzgerald's 11 a.m. brunch. See the independent film "Detachment" starring Adrien Brody at 5 p.m. at Russell C. Davis Planetarium. $7; visit http://www.msfim.org. Mike and Marty's Jam Session is at Hot Shots. Eddie Cotton performs at The Med Grill at 6 p.m. Also, be sure to take some time to support a local restaurant such as Bon Ami, Two Sisters Kitchen, Julep, Cool Al's, or Cerami's. If you want more dining options, see
JFP Restaurant Listings and the Menu Guide.
Is something missing? To make sure your event is listed on the JFP calendars, send the information to [e-mail missing] or [e-mail missing], or add your event yourself. It's easy!