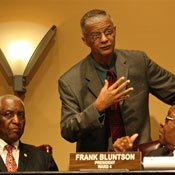 What is it Good For?
Some Jackson City Council members continue to miss work sessions. The Council holds the sessions the day before regular meetings to work out details and prepare for the agenda of the following day's meeting.
Chokwe Lumumba of Ward 2, LaRita Cooper-Stokes of Ward 3 and Charles Tillman of Ward 5 were absent from Monday's 10 a.m. work session, a fact that didn't slip by Council President Frank Bluntson of Ward 4 when he commented on Quentin Whitwell of Ward 1 being late for the meeting.
"You see, we couldn't start this morning until about 10:15, 10:20 because we were waiting on you," Bluntson said to Whitwell.
"And Mrs. LaRita, and Mr. Charles and Mr. Chokwe?" Whitwell jabbed back.
"We still don't see them," Bluntson said.
The effects of missing the session were evident at times during Tuesday's regular Council meeting, as Cooper-Stokes and Lumumba were clearly not on the same page as the Council members who attended the work session on the issue of taxi fare increases.
Adding to a proposal to raise taxicab fares by $1 per mile, Whitwell authored an amendment that would require all licensed cab drivers to complete hospitality training from the Jackson Convention and Visitors Bureau. Whitwell wrote the amendment after a discussion at Monday's work session in an attempt to deter drivers from speaking negatively about Jackson to riders. Whitwell read his handwritten amendment to the Council Tuesday.
Cooper-Stokes and Lumumba were out of the loop because they missed the previous day's discussion. Lumumba urged the Council to approve the higher taxi fare rates and to revisit the proposed amendments in 30 days, after the Council has had more time to research the proposals.
"I'd also like to add that I'm just not comfortable voting for something that's scribbled on a piece of paper and being read out at the meeting, and it's my first time hearing of it," Cooper-Stokes said.
"I'd like to say that neither one of my colleagues here speaking about this were at work session yesterday," Whitwell said in response.
The amendment passed by a 5-2 vote, with Cooper-Stokes and Lumumba voting against it. After the inclusion of the amendment and the rejection of two others, which took about 30 minutes of rehashing Monday's discussion for those who were absent, the proposal to raise taxi rates was approved by a 7-0 vote.
Docket Denials
The Council removed the largest bill on its claims docket, a biannual payment of $649,283 to the Hinds County Board of Supervisors for the Henley-Young Juvenile Justice Center. "I recall that there was a number of years that we would pay into this," Ward 7 Councilwoman Margaret Barrett-Simon said. "I thought that the time has expired. And we're still paying it."
Mayor Harvey Johnson Jr. Said the agreement between Hinds County Board of Supervisors and City Council for the biannual payment ran through 2011. "The agreement says that both parties have to agree to terminate it. That's what we ran across," Johnson said. "I don't know why it was written like that. It doesn't sound right; it doesn't look right, but I believe that's what it is."
The Council then voted 6-1 to remove the payment from the docket until further review. Cooper-Stokes, who is married to Hinds County Supervisor Kenneth Stokes, was the only opposing vote.
The Council also voted, at the request of the mayor, to remove all bills pertaining to weeds and grass work from this week's claims docket. Johnson said there were ongoing investigations into whether some of the work was done properly and satisfactorily. The Council decided it would be best to remove all claims all until the city's legal department has a chance to review the work and sign off on it.
Champions Honored
The Council also passed resolutions Tuesday congratulating the MHSAA 6A State Champion boys basketball team from Jim Hill High School and the 5A State Champion team from Callaway High School.
The championship was Jim Hill's first since a pre-integration Magnolia Championship in 1963. Led by Fred Thomas, a Mississippi State-signee and the school's first-ever Metro Player of the Year, the Tigers defeated Tupelo High School 76-74 in overtime of the 6A title game March 3.
Murray State-signee Terron Gilmore and Malik Newman, the nation's No.1-ranked freshman, led the Callaway Chargers to a 55-44 win over Wayne County in the 5A state title game and the school's third state championship in four years.