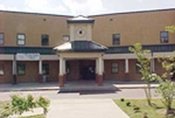 The Jackson Public Schools board has narrowed the field in its search for a new superintendent. Two finalists—Dr. Dennis L. Carpenter and Dr. Cedrick Gray—will be in Jackson April 11 for additional interviews and community meetings.
Carpenter is the deputy superintendent for operations at the Newton County school system in Georgia. Gray is the superintendent of schools for Fayette County in Tennessee.
Next Wednesday, April 11, the JPS board will interview the finalists in executive session. Later in the afternoon, members of the Community Advisory Committee, which has been assisting the board in the search, will meet with Carpenter and Gray.
From 6 to 8 p.m. that evening, the finalists will be at a public forum at Galloway Elementary School (186 Idlewild St.).
Read biographies of the candidates, supplied by JPS, below:
Dennis_Carpenter.pdf
Cedrick_Gray.pdf