Tuesday, September 27, 2011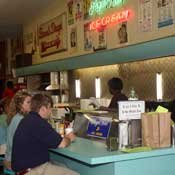 Sept. 27, 2011
Old Skool Club 101 is a new nightclub open in Jackson, with a specific audience in mind: No one under 25 years old allowed.
Norris Dunson, co-owner of the club with Fred Nelson, said the club caters to the above-30 crowd with blues, jazz, poetry, comedy, dancing and "old-school" music.
"I know the young kids have to have somewhere to go, but the grown folks do, too," Dunson said.
Old Skool Club 101 has been open for about a month in the Jackson Square Shopping Center (2640 Terry Road). The club has hosted parties after sporting events, rents out the venue for parties and has jazz on Tuesday nights, featuring DJ Mistro.
Right now the club is a bring-your-own-bottle establishment, but Dunson hopes to offer hors d'oeuvres soon. Old Skool Club 101 is open Tuesday-Thursday 5-10 p.m. and Friday-Sunday, 7 p.m.-close, or about 2 a.m. Call 601-940-6559 for details or to book an event.
Eat Local for a Good Cause
Jackson Restaurant Week runs Oct. 2-8, and local restaurants will serve their specialty dishes or deals on complete meals for fixed prices. The Jackson Free Press is a sponsor, and will feature menus in the fall food issue tomorrow. Other menus are available at jacksonrestaurantweek.com, with many restaurants offering three-course meals for lunch or dinner at deeply discounted prices.
Each order off the Jackson Restaurant Week menu at one of the 31 participating restaurants earns patrons a ballot to vote for one of five local charities to get $10,000. The charities nominated this year are Friends of Children's Hospital (Blair E. Batson), Community Animal Rescue and Adoptions, Parents for Public Schools: Ask for More Arts, Mississippi Firefighters Memorial Burn Association and Alzheimer's Association.
Celebrate Latin America
The Mississippi Hispanic Chamber of Commerce will hold a fundraiser Sept. 29 to celebrate 200 years of Latin American independence and to raise money for scholarships to send children to Holy Child Jesus School in Canton.
The event will have music, salsa dancing and food from different Hispanic restaurants. For information, visit the Mississippi Hispanic Chamber of Commerce Facebook page or contact Karla Vazquez at [e-mail missing] or 601-906-1736.
Learn about Green Jobs
The Mississippi Department of Employment Security will hold free green jobs conferences this week to release the results of a study on the state's green jobs economy.
The study predicts that green jobs in Mississippi will increase by 18.5 percent over the next 10 years. Attendees at the conferences will learn about the impact alternative-energy businesses are having on the state's job economy.
The conferences are Thursday, Sept. 29, at the Mississippi e-Center at Jackson State University (1230 Raymond Road) from 8:30 a.m. to 11:30 a.m., and Friday, Sept. 30 at the Biloxi Civic Center (950 Howard Ave.)
To register for either conference, visit the Mississippi Department of Employment Security and click on the Mississippi Green Jobs link near the bottom of the page.
Jackson Company Gets Michigan Contract
A utility company in Michigan has selected Jackson-based SmartSynch to modernize its metering system for 1.8 million customers.
SmartSynch sells "smart grids" with software that sends information about energy usage, power outages and other data remotely. The company says their technology allows customers to monitor their energy usage instead of waiting until they get their electricity bills. It also helps power companies respond more quickly to outages.
SmartSynch and Consumers Energy, the utility company, announced the agreement Sept. 26 at an industry conference in Washington, D.C. The companies are not releasing details of the contract.