Wednesday, September 14, 2011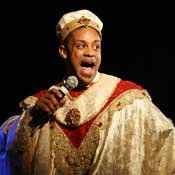 Sept. 14, 2011
A young, black man dressed in an embroidered jacket sits at the piano. He belts out a gospel tune in layers of emotion. Sweat pours down his face as he sings a familiar--but not instantly recognizable--religious song with a multi-textured and robed back-up choir.
Then he sings the Hebrew word "Shalom."
Joshua Nelson is an African American Jew from New Jersey who bills himself as the "Prince of Kosher Gospel." The religious musician and entertainer is coming to Jackson Sept. 17 to help Beth Israel Congregation celebrate its 150th anniversary. He will perform with the Mississippi Mass Choir and the Beth Israel Shirim Choir. He puts traditional Jewish prayers to traditional gospel music, and the two choirs will join the mashup.
"To some people it's a novelty," he says in a video on his website, joshuanelson.com. "My music represents life, our art represents life, life represents art, and this is our art from our soul."
The singer says Mahalia Jackson's gospel music inspired him at an early age. He listened to her records when he was just a little boy. "I guess I am carrying on her mantle," he says.
Nelson says slaves created American soul music. "The element in soul (that) people don't realize is that ... it's a musical expression of one's horrible conditions," he says.
Rabbi Valerie Cohen of Beth Israel Congregation says bringing Nelson to the celebration is a natural fit.
"We are always looking for ways to creatively collaborate with other faiths, cultures and races, in an effort to bring greater understanding to each other and positive experiences and energy to the community," she says.
"In Judaism we plant a tree," Nelson says. "But we don't a plant the tree for ourselves, because, you know, it takes 30, 40 years for a tree to actually grow. And now I see about planting a tree for the future generations, for the generations to come."
Beth Israel began in 1860. After the Civil War, the congregation--about 15 families--built the first synagogue in Mississippi. Several buildings and locations later, Beth Israel built a new temple on Old Canton Road in 1967. Local Ku Klux Klan members bombed the temple in September 1967, because its rabbi, Perry Nussbaum, was an outspoken voice against racism and segregation. Two months later, the same group bombed the rabbi's home. Although no one was seriously hurt, the bombings helped turn Jackson toward a more racially just society.
Beth Israel Congregation celebrates its 150th anniversary Sept. 16-18. Celebration events Sept. 17 include a dinner at 6 p.m. at the Mississippi Museum of Art and the "Beth Israel Ballyhoo" concert at 8 p.m. at the Jackson Convention Center. Tickets for the concert only are $30 and are available at Ticketmaster.com or the Coliseum box office. Tickets for the dinner and concert combined are $125. Doors open for the concert at 7 p.m. Call 601-956-6215 for information on the combined events. For a complete schedule of anniversary events, visit ms001.urj.net/150th.