Wednesday, October 26, 2011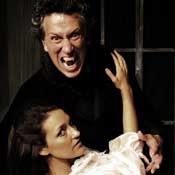 Vampires these days, quite frankly, are dreadful. Between the ersatz southern drawls on "True Blood" to the sparkly emo-ness of "Twilight," vampires have become annoyingly overused.
Count Dracula, however, will eternally be cool. New Stage Theatre (1100 Carlisle St., 601-948-3531) presents him in all his gory glory with its production of "Dracula," running Oct. 25 to Nov. 6.
Francine Thomas Reynolds directs the show, which is based on a Steven Dietz adaptation. Reynolds, creative director at New Stage since 2006, is aware of the frustrating popularity of vampires, but she says this adaptation is faithful to Bram Stoker's 1897 novel. "It's a complex production with some very psychological themes, but I just knew we could pull it off," she says.
Reynolds describes the play as sensual and puzzling, not macabre.
"The idea of transferring blood and eternal life personified reveals some very powerful aspects of human nature," she says.
Tickets are $25 with discounts for students, senior citizens and groups. Those attending the play in costume will receive a $3 discount on the ticket price at the Saturday, Oct. 29, performance. Also, New Stage is offering a $5 discount to anyone donating blood to Mississippi Blood Services on Oct. 31.
For ticket information and more, visit newstagetheatre.com.