Wednesday, October 19, 2011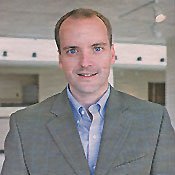 I would like to claim that Broadmeadow United Methodist Church first reached out to the neighborhood, but the truth is that the neighborhood reached out first to Broadmeadow.
It began a little more than 10 years ago, when area youth showed up at the church gym and asked if they could play basketball. Faithfully, the church said "yes." Not long after, several church members added a tutoring and mentoring component to complement the basketball, and Broadmeadow's "Books and Basketball" program was born. It was a decision that helped transform the church into an open and inclusive community, and it was a decision that has transformed the lives of many young people.
While I wish I could describe a science as to how it works, there is no science. It only requires the willingness to look around and see the potential that surrounds you. In this case, it was the willingness to recognize the potential that resides within young people all around our church.
That's exactly what happened to me one day five years ago when I looked outside my church and noticed that the young men in our program were wearing team jerseys with Broadmeadow U.M.C. emblazoned across their chests. What impressed me was that the church had not provided those jerseys. These young men had paid to have them made. I realized that while none of them had ever participated in worship at Broadmeadow, they were indeed "our" youth; they claimed the church before the church claimed them.
From that point forward, church members made it a point to actively incorporate these young men, all African American, into the life of a predominately white church. The tutoring program and exposure to the broader world through educational trips to New York City and Washington, D.C., made a difference in their lives. The church community as a whole, and its attitude, began to look different. It took a little time, but gradually these young men went from being known around the church as the "basketball boys" to being known as vital members of the church family.
So often, churches and other organizations see changing neighborhoods and changing demographics as threats. Their response is not welcoming. Instead, they leave or hunker down into a defensive posture protecting everything they hold dear—including their misconceptions.
The Jackson City Council has recently determined that citizens can protect themselves and prevent crime in the city by allowing neighborhoods to construct gates at their entrances. While I certainly understand the desire for people to feel secure in their homes and neighborhoods, this response saddens me.
Neighborhood gates might deter some crime, but they don't address or solve the problem. The only real way to deal with perceived threats is through building relationships, not through building fences. When you get to know someone who is different from you, you soon discover that the only thing they threaten is the dismantling of your own fears and prejudices.
That's exactly what happened at Broadmeadow. Maybe it can happen for you.
Rev. Rob Hill is the pastor of Broadmeadow United Methodist Church in Jackson where he has served since June of 2005. A native of Forest, he earned his bachelor's degree from Mississippi State University in 1997 and a master's degree in divinity from Duke University in 2002.
Previous Comments
ID

165235

Comment

ROB WILL BEAT YOU IN PING-PONG. FACT.

Author

jbreland

Date

2011-10-21T09:44:04-06:00