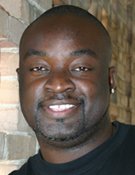 Brad "Kamikaze" Franklin--community activist, entrepreneur and Jackson Free Press columnist--called on the Jackson community this morning to engage in proactive dialogue and finding connections to move the city forward.
Speaking at Koinonia Coffee House's Friday Forum, Franklin said that in the wake of released 2010 U.S. Census data, he helped form a movement called One Jackson. The movement involves informal meetings meant to inspire citizens to create change by identifying issues in the city.
"There is a status quo that exists in the city of Jackson and even the state of Mississippi, and its time for all of us in this room to challenge that," he said. "... A lot of people have opinions and thoughts and desires on how to change things in this city, but when you actually talk about changing the status quo, you get a lot of people who are afraid to speak up."
Franklin said One Jackson is not an organization, but a "movement everyone can embrace."
"We hold the power in this room to change the course of this city," he said.
Over the past few years, Franklin, a Jackson native, has held several titles in the community. He is former director of entertainment for Watkins Partners, managing partner of the nightclub Dreamz JXN, a rapper and community activitst. He is also president of OurGlass Media Group, a consulting and branding company.
Franklin emphasized the importance of reaching out to young people and creating a future where they have viable options for success.
"The future of Jackson hinges upon our ability to groom the next set of leaders, public officials and activist in this city," Franklin said.
The next One Jackson meeting is 5:30 p.m. Thursday, May 12, at Dreamz JXN (426 W. Capitol St.) For information, email Franklin at [e-mail missing]. Read Franklin's most recent column "Eliminate Vulnerability."
Previous Comments
ID

163385

Comment

One slight correction...its "ONE Jackson" not Jackson One.

Author

Kamikaze

Date

2011-05-06T13:53:50-06:00
ID

163386

Comment

Fixing now. Sorry Kaz.

Author

Lacey McLaughlin

Date

2011-05-06T14:41:29-06:00