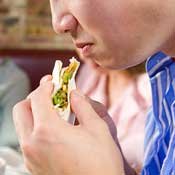 A few months ago when Sid Scott was craving fresh and simple Mexican food, he wished that Jackson, like the majority of cities, had a traveling taco truck.
Instead of just wishing for his dream to come true, Scott decided to take action. This spring, Jacksonians can expect to see Scott driving and serving up fresh Latin and Mexican food in his traveling food mobile, "Gringos Tacos and Tortas."
"We think this is something that Jacksonians are ready for," the 45-year-old Tupelo native says.
The truck will offer breakfast, lunch, dinner and a special late-night menu of pork, beef, chicken, and fish tacos and tortas. Scott says he plans to select his route based on demand, but he currently plans traveling to downtown Jackson, Fondren and as far as Ridgeland. Local chef and Jackson Free Press contributor Tom Ramsey is developing the menu.
Scott says he has not yet set an opening date, but expects his venture to be up and running over the next few weeks.
For more information, e-mail [e-mail missing] or call 601-842-4302.
Salsa Mississippi Moving
Salsa Mississippi is moving from its current location at 303 Mitchell Ave. to 605 Duling Avenue in Fondren. In a statement yesterday, owners Sujan and Sarah Ghimire said the new space, which is in the former Dream Beads' location, will provide better parking and more space to dance. The dance studio which hosts lessons and dance parties will also unveil a new website soon.
The studio will continue to offer lessons at its Mitchell Avenue location until March 14.
For more information, visit Salsa Mississippi's website or call 601-213-6355. 

Petra Cafe Replacing Jerusalem Cafe
Petra Cafe owner Ayman Al-Bataineh is moving his Mediterranean restaurant from Clinton to Fondren in the former site of Jerusalem Cafe (2471 Old Canton Road), after Jerusalem closed in late February.
The restaurant, which features traditional Mediterranean fare, will also offer a lunch buffet.
Al-Bataineh, who is currently remodeling the space, said he hopes to open in three weeks. For more information, visit Petra Cafe's website.
Ribbon Cutting for Staffing Agency Today
The Onin Group, a staffing agency with 30 locations throughout the South, hosts a ribbon cutting and open house at its new Jackson location at 4 p.m. today. The agency provides staffing services for light industrial and warehouse jobs as well as clerical positions.
The Onin Group is located at 4915 Interstate 55 N., Suite 305-C. Office hours are 8 a.m. to 5 p.m. Monday through Friday. For more information, call 601-982-0694.


Opening Lake Hico
The business group 100 Black Men of Jackson is working to build a consensus around the reopening of Lake Hico to development. Yesterday, the group hosted businessman Wydett Hawkins, who has campaigned for three decades to reopen the northwest Jackson lake, closed in the 1960s following integration. Entergy Mississippi currently uses the lake as a cooling pond for a power plant. Any plans to reopen the lake to recreation or development would have to win approval from the power company and clear environmental hurdles.
"The continued closure of Lake Hico is a major loss" to the city, Hawkins told members.
100 Black Men member Leroy Walker said that the group would invite Hawkins back in a few months to speak alongside representatives from Entergy.
Jackson Receives Check from Reader's Digest
Mayor Harvey Johnson, Jr. accepted a $1,000 check yesterday from the Reader's Digest "We Hear You America" campaign."
The campaign, which travels to 100 cities in 100 days, rewards cities that received the most votes from readers. The magazine selected the cities after residents submitted photos and a statement on why their city is the "best in America."
In a statement yesterday, Mayor Johnson said he will use the funds to reinstate the "Jackson's Best" program, which he started during his previous administration to recognize and reward city employees.