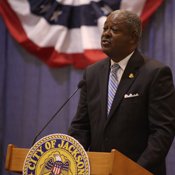 Jackson Mayor Harvey Johnson Jr. unveiled a new jobs program to increase employment opportunities for Jacksonians during his State of the City address at the Jackson Medical Mall yesterday.
The city's "Jobs for Jacksonians" initiative provides citizens with a phone number (601-961-4JOB) where they can find out about job opportunities in the city. The service will match potential employees to companies and businesses that have contracts with the city of Jackson.
"We are serious about our Jobs for Jacksonians Initiative and we are going to make our best effort to put our citizens to work," Johnson said.
To spread the word about Jackson's progress, the mayor is also instituting the Capital City Ambassadors Program later this year. Under that program, the city will select individuals throughout the state to visit Jackson and learn about its history and progress. More details on the program are coming soon, city spokesman Chris Mims said.
"We need to begin telling our own story, and we are going to use this ambassadors program to do just that," Johnson said.
Johnson's speech came a day after the Greater Jackson Chamber Partnership, along with the mayor and other local leaders, unveiled plans for a Mississippi Healthcare Corridor that would create a hub of health-care services in Jackson along Woodrow Wilson Avenue from Interstate 55 to Interstate 220.
"This comprehensive approach will continue to put Jackson on the map as a world-class health-care city with development all along Woodrow Wilson Boulevard that will accommodate medical facilities, research labs, housing opportunities and more," Johnson said.
Johnson also praised Entergy's purchase of the KGen Power Corp. 450-megawatt, power plant in Jackson yesterday. Energy's purchase adds an additional $5 million to the county's property-tax revenues.
Johnson addressed the city's challenge of improving its infrastructure as well as spending $29 million to upgrade its wastewater treatment plant. The mayor maintained his position that he supports a local sales-tax increase to help fund infrastructure needs but does not support the Legislature's proposed make-up of a ten-member commission to oversee the funds. Current legislation would only allow for the mayor and the Jackson City Council to appoint three members on that commission.
"I believe the citizens of Jackson would want their elected officials to be more involved in the expenditures of the estimated $15 million a year," Johnson said. "Particularly since the commission would be in place for 20 years."
After the mayor's speech Ward 6 Councilman Tony Yarber said he was proud of the city's accomplishments over the past year, and stressed the importance of making infrastructure a top priority.
"I think what people need to understand very clearly is that this city is facing a financial situation in terms of wastewater and sewer in the upcoming years, and we cannot handle where we currently stand," Yarber said. "We need legislation that's going to give us the opportunity--as lawmakers here in the city--to leverage (funds for infrastructure repairs)."
Previous Comments
ID

164070

Comment

I attended the Mayor Johnson's State of th City address on yesterday. It was well attended and many people spoke after the affair about the things that they did not know were happening in Jackson. We are definitely on a positive move in this City under the leadership of Mayor Johnson. There were many applauses during Johnson's delivery, especially when he talked about STREETS. Help is on the way! The audience gave signs of disapproval about the Legislature proposing a 10 member comission to over-see funds for infrasttructure projects. Mayor Johnson has been a great stewart over the City's funds. He has taken the terrible financial situation that the City faced after the last Administration and applied remedy. Still another high-point was his comment about furlows and law-offs. "No City employee will be furlowed or layed off...." When you hear so much about employees being terminated in many other parts of the country, it let's you know that this is one MS City that has a lot to be proud of: We are not at the bottom of the barrel on this issue.

Author

justjess

Date

2011-07-14T14:57:50-06:00