Wednesday, January 26, 2011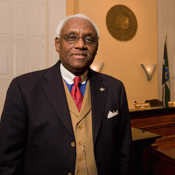 A confusing Jackson ordinance could prove to be a case study on the frustration of a statewide partial smoking ban before the Mississippi Legislature.
Last week, a joint House and Senate Public Health Committee heard opinions from health advocates and business representatives about the potential consequences of a statewide total smoking ban, as proposed by Senate Bill 2726, but Republicans appear to favor a partial ban instead.
The partial-ban bill, SB 2514, authored by Public Health and Welfare Vice-Chairman Sen. Briggs Hopson, R-Vicksburg, proposes to restrict smoking in restaurants and other businesses, including retail stores, sports arenas and convention centers, as well as banning smoking within 20 feet of any entrance to smoking-restricted facilities and businesses.
The bill gives many exemptions, however, including to any business regulated by the Mississippi Gaming Commission, which includes casinos and bingo halls. It also exempts smoking in hotel and motel rooms, cigar bars, and retail tobacco and convenience stores.
To further complicate matters, the bill would exempt bars, including bars inside restaurants, "if secondhand smoke does not infiltrate into areas where smoking is not permitted under the bill."
The bill defines a "bar" as "a business that is devoted to the serving of light wine or beer for consumption by guests on the premises." However, the state tax commission conflates the definitions of bars and restaurants in their qualifying language for alcoholic-beverage licenses. Businesses that sell hard liquor and wine and beer with alcohol contents higher than 5 percent must also generate at least 25 percent of their gross receipts from food sales. In Mississippi, a "bar" that does not sell food can sell only light wine and low-alcohol beer.
The city of Jackson instituted a similar partial smoking ban in 2008. Some restaurant owners complained they were unsure of whether their restaurant fell into the category of "bar" because alcohol comprised the majority of their sales.
Patrick Barnes, general manager of the now-closed Zydeco restaurant, told the Jackson Free Press last year that he believed his restaurant was not ducking city codes as long as he monitored the amount of alcoholic drinks his restaurant sold. He believed, inaccurately, that his business qualified as a "bar" under city codes because liquor sales comprised the majority of his revenue.
Jackson simplified its smoking ban last June by extending it to all bars and restaurants, after yielding to pressure from businesses that were adhering to the ban.
Former Ward 2 Councilman Leslie McLemore said last week that businesses obeying the ordinance complained that smoking patrons moved their business to restaurants and bars not complying with the ban.
"As long as (the ban) is partial, you'll have the same level of complexity and confusion, and it'll cause heartburn in the business community with the merchants and businesses that are trying to abide by the ban," McLemore warned.
American Cancer Society Coordinator Anita Bales said the simpler total ban is easier to follow. Bales lobbies for the complete ban, authored by Sen. Hob Bryan, D-Amory, which prohibits smoking of tobacco products in all public buildings and places of employment, including bars, and further restricts smoking in many non-enclosed areas such as arenas, amphitheaters, stadiums and zoos, and other forms of outdoor amusement parks, including playgrounds.
Bryan's bill would restrict smoking in casinos and bars, but it exempts private clubs that have no employees and, of course, private residences.
Another advocate of a total ban, Dr. Robert McMillen, assistant professor at Mississippi State University's Social Science Research Center, cited an MSU report that suggests the cities of Hattiesburg and Starkville witnessed a drop in their heart-attack rates after enacting city-wide smoking bans.
But Mississippi Hospitality and Restaurant Association Executive Director Mike Cashion warned legislators last week that enacting a statewide smoking ban would hurt businesses whose customers prefer to smoke.
Mississippi Health Officer Mary Currier, who supports the total smoking ban, said she did not think the ban would adversely affect businesses because of the extent of the ban.
"If it's statewide, then everybody's working under the same policy, so you don't have people who are going to other places to smoke. It makes the playing field more even," Currier said this week.
Still, Senate Republicans appear more willing to support the Republican-authored partial ban over the complete ban. At the joint public-health committee hearing last week, Sen. Joey Fillingane, R-Sumrall, asked Currier repeatedly if she would be willing to support a statewide partial smoking ban, such as that offered by SB 2514.
Currier repeatedly answered that she only advocates for a total statewide smoking ban.
McLemore was the Jackson City Council's chief advocate in favor of a complete ban in 2008, but grudgingly passed the partial ban when it became clear that a total ban would not garner majority support from the Council at the time. He said if the state passed a partial ban, lawmakers would soon get a full helping of Jackson's frustration.
"If anything, (the partial ban), if passed, will likely provide a foundation for a complete statewide ban later on," McLemore said. "So goes Jackson, so goes the rest of the state."