Wednesday, January 26, 2011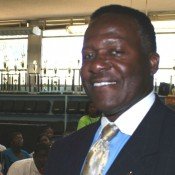 The Jackson Public Schools Board of Trustees voted during its Dec. 7 meeting not to renew Superintendent Lonnie Edwards' contract for the upcoming school year, Board Attorney Dorian Turner told the Jackson Free Press today. The 3-1 vote came during executive session, and the board informed Edwards of its decision at a meeting this afternoon, Turner said.
Board President Kisiah Nolan and members George Schimmel and Monica Gilmore-Love voted for non-renewal, while member Otha Burton cast the lone vote to keep Edwards. Member Ivory Phillips was absent.
Edwards has 10 days from today to appeal the board's decision and make his case for renewing his contract.
Previous Comments
ID

161821

Comment

Ms. Nolan, Dr. Schimmel and Ms. Love. Thank you. You have to evaluate an employee based on his or her performance, and the decline of our schools lies clearly at the feet of Dr. Edwards.

Author

833WMaple

Date

2011-01-27T08:47:39-06:00
ID

161833

Comment

the decline of our schools lays clearly at the feet of our community. it is lazy and ill-advised to blame one person for the downward slide of an already declining school district, especially after only 2.5 years on the job. now, let's be clear, i am neither advocating for or against dr. edwards' dismissal, but to blame him singularly for jps's problems does a disservice to him, jps, communities, parents, and most importantly students. the ENTIRE city of jackson holds responsibility for the success or failure of jps.

Author

eyerah

Date

2011-01-27T17:12:48-06:00
ID

161836

Comment

there has to be accountability. this is a good start for JPS. thank you school board. anybody that has had any real dealings with the superintendent realize that he simply isn't what we need in Jackson to move the school district forward.

Author

msnative1943

Date

2011-01-27T22:05:33-06:00
ID

161837

Comment

Leadership in education is everything. The schools showed a marked decline during the current leader's administration. If he is unable to provide the leadership needed for growth, the board needs to find someone who has that capacity. And that task is not an easy one. The best thing is the president of the board is a life long educator, and a really good leader. She will know what JPS needs and can help them find the best qualified person for the job.

Author

onewhoknows

Date

2011-01-28T08:37:34-06:00
ID

161842

Comment

Eyerah: I challenge you to look at the numbers and compare them to the statistics prior to Dr. Edwards taking over the school district. It was his job to continue the upward movement and enhancement of JPS and he failed to do that. My children and other children in the district could not afford more years of failed leadership.

Author

lanier77

Date

2011-01-28T16:16:41-06:00