Wednesday, January 26, 2011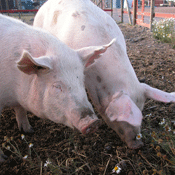 The University of Mississippi Medical Center is one of only seven medical schools in the United States that still uses live animals to teach medical students basic physiology, pharmacology or surgery. Every year, UMMC uses roughly 32 pigs to train students in basic cardiovascular procedures. After the pigs are anesthetized, students place catheters in the pigs' veins and arteries. The animals are then euthanized.
Last week, the advocacy group Physicians Committee for Responsible Medicine accused UMMC of violating animal-welfare law. The advocacy group has asked UMMC to reconsider its use of pigs since 2006, PCRM Senior Medical and Research Adviser John Pippin said. Nobody at the school, from individual instructors to administrators, has responded, though.
On Jan. 20 Pippin wrote to the U.S. Department of Agriculture, claiming that the Jackson medical school violated the federal Animal Welfare Act by not considering non-animal alternatives to the live pigs that its students cut open to practice heart operations.
The complaint to USDA's animal-welfare division was a familiar move for PCRM. For several years, it has waged a campaign to convince medical schools to switch from live animals for training to human simulations.
The campaign has been successful. More than 90 percent of the country's medical schools have stopped using live animals to train students, PCRM states. To teach basic physiology, the majority of medical schools now rely on computer-based simulations or mannequin-like devices that can simulate human physiology and responses like bleeding.
In 2009, the University of Southern Alabama stopped using live pigs after pressure from PCRM. Last year, two more schools, the University of Tennessee at Memphis and the University of Wisconsin, also discontinued the use of live pigs in medical training.
Another school, the Medical College of Wisconsin, changed its practices last year after a multi-year battle. In 2006 PCRM filed a similar USDA complaint against the school and won a finding that the school did violate the Animal Welfare Act by not justifying its use of live dogs in a physiology lab. The MCW lab stopped using pigs as well in February 2010.
Richard Katschke, MCW's associate vice president for public affairs, said that the decision to eliminate the live-pig lab was part of an overhaul of the entire medical curriculum and not influenced by pressure from PCRM.
The school now gives its first-year physiology students more time to observe hospital treatment of actual heart patients. Students also work with the mannequin-like simulators that PCRM promotes, but the devices are not a substitute for experience with living patients, Katschke said.
"Students always know you're working on a hunk of plastic," Katschke said. "You're not dealing with a living being. It is far different when you're working with a live animal that's under anesthesia, as a pig would be, compared to working with a plastic model that has electrodes."
MCW still uses live frogs, rats and mice in some of its physiology labs, however. Katschke said that PCRM is pressing the school to discontinue those labs as well.
PCRM's opposition to the use of animals in medical education is part of a broader platform that also includes advocating for a vegetarian or vegan diet and opposing even the use of animals in basic research, which is still common in medical schools and universities. The group's platform figured in UMMC's Jan. 20 response to the USDA complaint. PCRM has "a single-minded focus to force schools like ours to discontinue these labs," the statement began.
"Organizations such as (PCRM) should not make this decision for medical schools," the statement said. "Abandoning animal procedures, as PCRM suggests, would dramatically impede biomedical discovery and prolong suffering caused by diseases."
The statement also maintained that students treat the pigs "humanely" and that veterinary staff are present during the entire laboratory process.
Tom Fortner, UMMC's public affairs chief, said that USDA has not yet contacted the medical center about the committee's complaint.
Dave Sacks, a spokesman for USDA's Animal and Plant Health Inspection Service, said that the agency has referred the complaint to a regional office and that an inspector will visit the school "in the near future."
USDA automatically responds to complaints with a facility inspection, but medical research facilities are also subject to regular yearly inspections as well, Sacks said. UMMC had three routine inspections by the agency's animal-welfare inspectors, from 2008 to 2010. None of the visits found any violations of federal law or regulations.
"We don't have the regulatory authority to step in and say, 'You, as the University of Mississippi, cannot conduct this type of research,' " Sacks said. "That's outside the scope of our authority. The only thing we're going to do is make sure that the animals are being cared for."