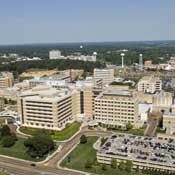 Last week, the University of Mississippi Medical Center became the latest target in a campaign by the Physicians Committee for Responsible Medicine for the school's relatively uncommon use of live pigs in training medical students.
PCRM's Web site stated that UMMC is one of only seven medical schools in the United States that still uses live animals to teach medical students basic physiology, pharmacology or surgery. UMMC uses roughly 32 pigs per year to train students. After the pigs are anesthetized, students place catheters in the pigs' veins and arteries and perform other operations. The animals are then euthanized.
More than 90 percent of the country's medical schools have stopped using live animals in training students, PCRM states. The use of animals in basic research is still common in medical schools and other universities, however.
PCRM advocates for non-animal alternatives in medical research and training and for a vegetarian or vegan diet. Last year, it led successful campaigns to stop the use of live pigs in medical training programs at the University of Wisconsin and University of Tennessee in Memphis.
In its Jan. 20 complaint, the organization argued that UMMC is violating the federal Animal Welfare Act. Federal regulations under the act require schools to justify their use of live animals when alternatives are available.
"(J)ustification of animal use for medical student physiology education is not possible in view of the validation and implementation of nonanimal training methods by more than 95 percent of medical schools in the U.S. and Canada," PCRM Senior Medical and Research Adviser John Pippin wrote.
In response, UMMC issued a statement saying that PCRM has "a single-minded focus to force schools like ours to discontinue these labs."
"Organizations such as the Physicians Committee for Responsible Medicine (PCRM) that downplay the benefits of this laboratory experience to medical students in support of their goal to ultimately ban the use of animals in medical education and research settings should not make this decision for medical schools," the statement said. "Animal use in education and research provides benefits to both humans and animals--benefits that have been abundantly documented. Abandoning animal procedures, as PCRM suggests, would dramatically impede biomedical discovery and prolong suffering caused by diseases."
Tom Fortner, UMMC's public affairs chief, said USDA has not yet contacted the medical center about the committee's complaint.