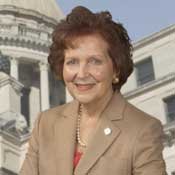 Mississippi Public Broadcasting Acting Executive Director Jay Woods said a proposed bill that would eventually end state funding for his agency due, in part, to its supposed "liberal" bias would hinder the state's educational and economic growth.
House Bill 742 would reduce funding for Educational Television Authority, the official name for MPB, by 20 percent until 2016 and end all state funding in 2017. Rep. Rita Martinson, R-Madison, said while the bill is unlikely to gain enough support to pass, the legislation is an opportunity to address MPB's poor management and content.
"It's not really that I want to get rid of the entire thing, but I want people to understand that we are talking about cutting state-agency budgets," Martinson said. "We are talking about (cutting) college courses. We are talking about teachers losing their jobs in the university system and K-12. We need to look at how we are spending at all levels."
Martinson said she was also concerned about the station's content. She pointed out that the station hasn't produced an episode of "Mississippi Roads" since February 2010, and claimed the content often has a liberal bias.
When asked for examples of liberal bias, Martinson declined to answer, saying, "I'm not going to sit here and name all of the things that I think are liberal. That's really not my concern. It's the proper management of money that is my concern."
Woods defended the station against Martinson's claims, and said that MPB plays a vital role to citizens by delivering life-saving information during statewide emergencies in addition to its educational nonpartisan programs.
"We are far more than just a television or radio station," Woods said. "We are the state's production company to produce quality content for other agencies such as public-service announcements."
Woods said that "Mississippi Roads" is currently on "hiatus" because the station has had to reallocate its resources to other priorities. He said the station is focusing on producing programs that have a direct benefit to the state's economy. MPB recently partnered with the Mississippi Manufacturers Association to produce "Job Hunter," a television show that educates viewers about the state's manufacturing jobs in the automotive, aerospace and plastics industry. The first episode aired Jan. 6, and MPB developed curriculum for the state's public schools and high education teachers to accompany the production.
Woods said that MPB spends 90 percent of its state allocations on salaries. Federal grants and membership drives help pay for national programming and local productions.
Gov. Haley Barbour's recommended budget calls for a 20 percent reduction in state funding to MPB as well as other agencies that he said operate "outside the core function of government" like the Mississippi Library Commission and the Mississippi Arts Commission. The Legislature, however, calls for an 8 percent cut for MPB, or $605, 214 for fiscal year 2012. For this current fiscal year, the Legislature appropriated $7.55 million for MPB.
Woods said it is unlikely that MPB could survive on private donations alone, and the station is currently doing all that it can to increase its private and federal grants. 

Last July the agency was immersed in controversy after former MPB Executive Director Judy Lewis pulled the national radio program "Fresh Air" from MPB for its "inappropriate content." The show returned after listeners complained and national media reported the story.
Also see: "Peace in the MPB Valley?"
Previous Comments
ID

161756

Comment

When in the hell has MPB ever been liberal!!!!????? Except for maybe one or two shows on there, its ultra super conservative in its programming?

Author

Duan C.

Date

2011-01-21T14:17:01-06:00
ID

161764

Comment

[snip] Nothing surprises me anymore.

Author

Walt

Date

2011-01-21T17:57:28-06:00
ID

161765

Comment

If liberal bias isn't Martinson's concern then why did she mention it as a concern? It either is and she has specific examples to prove MPB's liberal bias or she is just trying to stir up controversy where none exists and gain conservative support for her defunding the station. I vote for the latter. Let's hold her accountable to her statements, make her prove the liberal bias or retract the statement.

Author

Rev. Fred L Hammond

Date

2011-01-21T18:00:08-06:00
ID

161767

Comment

Right, Rev! I was thinking the exact same thing myself as far as her "liberal bias" statement and then not able to come up with examples of such.

Author

golden eagle

Date

2011-01-21T22:17:54-06:00
ID

161769

Comment

The programs on MPB are laced with intelligence, reason and rational thought, which scares conservatives. It hurts their brains because they can't process these concepts. Rather than try to make sense of it, they do what they normally do when presented when something they can't understand, they cry "Liberal!" and try to destroy it.

Author

DrumminD21311

Date

2011-01-22T01:14:57-06:00
ID

161774

Comment

Drummin, I would consider myself conservative and MPB doesn't "hurt my brain." It is by far my favorite channel, for both radio and TV. My political leanings hardly tamper with my viewing pleasures. If your comment was intended as a joke, then bravo, you got me. Blanketed statements make me laugh.

Author

jbreland

Date

2011-01-23T14:42:21-06:00
ID

161775

Comment

jbreland has a point. It's dumb to say all liberals think alike, and it's dumb to think all conservatives think a lot, just as dumb to say that MPB is "liberal." (Tell that to Terry Gross, relegated to after-dark before she discusses intelligent topics.) And it's especially dumb to decide in advance that you agree with one side or another due to party. That is a ridiculous meter for making any decision.

Author

DonnaLadd

Date

2011-01-23T16:35:56-06:00
ID

161776

Comment

Wouldn't it be nice if MPB could make it on private funding and grants? Then that way they could tell people like Martinson to bugger off. But I know they wouldn't because they are too professional. This defunding foolishness only makes me want to write them a bigger check and I hope it has the same effect for their other listeners.

Author

redlion

Date

2011-01-23T18:25:34-06:00
ID

161778

Comment

I do find it interesting that my husband, a moderate conservative, seems to find a liberal bias in MPB. But I think he means the programming they pick up from NPR. I would call myself more to the left politically, and I feel that MPB AND NPR are pretty neutral. Interesting, I think, the difference in perception. But really Martinson is just picking up on this phemenon. A lot of Republican/Conservative lawmakers think that public broadcasting is rife with idealogical commentary. They feel that the taxpayers have no business funding such a pursuit. That's what this bill is about and it is going on the Federal level. I can't say I disagree with the sentiment. I wouldn't want government supporting something I felt was politically biased. However, I don't feel public broadcasting is - and if it is, I think it is more diverse than one political leaning. Much like our country.

Author

Krystal

Date

2011-01-24T11:15:53-06:00
ID

161779

Comment

Of course, we're living in a country where pointing out the *facts* about undocumented immigration gets you labeled a "liberal," as if it's some sort of insult. I don't like it when people assume I'm a Democrat, but I don't really care if, on a particular issue, they think I'm liberal, moderate or conservative. Those labels mean squat these days anyway. It's the truth that matters. Rep. Martinson is clearly playing low-grade partisan politics and probably has no idea what is supposed to be so "liberal" about MPB. If she did, she would have answered the question. It's very sad that we elect people who can't, or won't, think for themselves. They are prime to serve a corporate master rather than the people. The truth about wedge issues such as immigration is that corporations (such as Koch empire) are using it to appeal to non-researched bigotry in order to get votes to keep their companies from being regulated or having anyone telling them they can't destroy the environment (and thus our breathing air, water, etc.) Americans really need to figure this out, and fast. A lot is on the line while scheming corporatists lead small-minded, power-hungry legislators around by the ear, doing their bidding and counting on bigotry to blind voters to what is really going on. How do you think our manufacturing jobs suddenly went "poof!" and disappeared to other countries. People weren't paying attention, or didn't know, what was really going on.

Author

DonnaLadd

Date

2011-01-24T11:44:55-06:00
ID

161780

Comment

Also re MPB, etc., anytime you have people in or trying to take power who are counting on inaccuracies to bolster their position, they will *always* attack any media that tries to tell the truth. It's just the way it is. As RNC chairman, Barbour really perfected it and has continued it here in the state. He's got his lapdog media (like Sid Salter and much of the state media; no mistake that a Ledger reporter who used to cover him now does his press, no?), and if other media outlets point out truths that he's not telling, he just belittles them as latte-drinkers or such. It's classic ad hominem and attacking-the-messenger logical fallacy, and it works on many people who prefer to believe anything said by people who reflect their biases back to them and tell them it's OK to not, say, want more Latinos in the state, or whatever. It's a disgusting strategy to play to these biases, rather than try to help people rise above them (and thus make our state stronger in the long run), but the corporations funding these political puppets don't care about the strength of our state for people. They care about climates where they can't get sued for much if they kill people because they don't bother to do what they need to do to keep people safer.

Author

DonnaLadd

Date

2011-01-24T11:54:59-06:00
ID

161781

Comment

What a better world this would be if, instead of trying to silence opinions that don't agree with our own, we actually listened and attempted to learn something from them. The problem is that we have a whole lot of screechers and hucksters (a la Glenn Beck and Rush Limbaugh) who, as far as I can tell, are not interested in telling the truth, yet present their designed-for-profit rhetoric as if it is true. A lot of well-meaning people get sucked into their vortex of hysteria, and if they never watch, listen to or read anything else, they end up firmly believing that anything that doesn't spout the same b.s. is not just wrong, but evil at some level. People who should know better, like politicians, then manipulate that ignorance and fear to forward their personal aims. (Of course, I've met some "true believer" politicians, too.) It's a sad state of affairs when polls show that PBS is the most trusted source of news and information and the most trusted institution in the nation, except among Republicans, who are fixated on Fox News to the exception of every other broadcast news source. When I was in marketing, we used a phrase—navel gazing—to describe marketing copy that espoused the greatness of the product (or a particular feature the company thought was just awesome) without actually telling about its specific features or benefits applicable to potential customers. I'm reminded of that every time I hear of something like this potential legislation. To paraphrase Martinson: I won't tell you why it's liberal, just take my word for it. And we all know liberal is bad. Uh-huh.

Author

Ronni_Mott

Date

2011-01-24T12:51:36-06:00
ID

161790

Comment

"When I was in marketing, we used a phrase—naval gazing..." Umbilically speaking, don't you mean navel-gazing? Though I would love to hear more about naval-gazing if I'm wrong.

Author

annyimiss

Date

2011-01-25T08:55:31-06:00
ID

161791

Comment

Right you are, Annyimiss. Thanks.

Author

Ronni_Mott

Date

2011-01-25T09:49:57-06:00
ID

161796

Comment

On NPR I have often heard a show with a black female host that explores black issues. They interviewed someone from ACORN after that whole scandal. I'm sure conservatives consider that to be "liberally" biased. When has a conservative host ever explored issues within the black community? Go ahead and think about it, I'll wait. Yesterday, I heard native Spanish speakers with Latino accents talking about the merits of Latin music (which was all sung in Spanish). Given conservatives obsession with eliminating Spanish from America, that could be an example of liberal bias.

Author

DrumminD21311

Date

2011-01-25T13:56:34-06:00
ID

161800

Comment

I strongly believe that NPR does have a liberal bias. For the record, I'm a NPR/MPB supporter and staunchly liberal. The explanation I've come up with is somewhat simple. Everyone I know who truly supports the concept of a National Public News Agency knows that such an organization would have be free of advertising and political influence in order to be totally unbiased. The people that would be interested in working for such an organization are draw towards the ideal of "free" journalism, and it seems that people drawn that concept are more likely progressive than not. I honestly think that NPR/MPB isn't liberal/progressive/insert adjective that fits here on purpose, in fact, I think they work very hard to be unbiased. It is merely bias of the journalists coming out in their work.

Author

Kevin Slark

Date

2011-01-25T15:34:47-06:00
ID

161803

Comment

On NPR I have often heard a show with a black female host that explores black issues. Was it "Tell Me More" with Michele Martin? When has a conservative host ever explored issues within the black community? Go ahead and think about it, I'll wait. The ones I usually hear hardly ever have anything positive to say about the black community.

Author

golden eagle

Date

2011-01-25T17:11:48-06:00
ID

161804

Comment

"The ones I usually hear hardly ever have anything positive to say about the black community." Unless it's how the NAACP and ACORN destroying America.

Author

DrumminD21311

Date

2011-01-25T17:20:18-06:00
ID

161805

Comment

"Was it "Tell Me More" with Michele Martin?" Yeah, that's it. She's always talking about empowering black people, which has to be a frightening prospect to conservatives. They gotta shut that down ASAP, just like ACORN and the NAACP. Since 95% of black people voted for Obama, they decided that is a segment of the population that can be abandoned and swept aside, except for the smattering of assimilated tokens they can brainwash into showing up at their hate rallies.

Author

DrumminD21311

Date

2011-01-25T17:29:42-06:00
ID

161809

Comment

Let me rephrase my earlier post - MPB's programming is very vanilla, at least to me - its not like they are really pushing the envelope with their programming, whether on tv or radio. So that's just my opinion on that.

Author

Duan C.

Date

2011-01-26T08:26:31-06:00
ID

161813

Comment

"Let me rephrase my earlier post - MPB's programming is very vanilla, at least to me - its not like they are really pushing the envelope with their programming, whether on tv or radio." Because liberals don't push the envelope anymore. They just kind of whisper their opinions, and when they get too loud conservatives yell and tell them to "Shut up." They then say "Yes sir" and apologize and remain silent until the next cycle begins again.

Author

DrumminD21311

Date

2011-01-26T10:11:54-06:00