Wednesday, January 19, 2011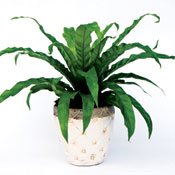 "A morning-glory at my window satisfies me more than the metaphysics of books." —Walt Whitman
On the dreary and cold days of winter, few things offer a vibrant feel the way houseplants do. They appeal to our eyes; we're mesmerized by the colors in the petals and fascinated by their texture and size. Simply looking at a plant relieves stress and reduces your heart rate, and, of course, they help absorb harmful toxins.
Flower Knowledge
Claim your own serenity this winter by adding a colorful houseplant to your home.
Those of you feeling somewhat unlucky may want to try a bamboo plant.
Find protection for yourself with colorful snapdragons.
To glance into the future, you may want to bring marigolds into your home; they're said to bring psychic powers.
For more fashion tips, tricks, and sales, check out this week's JFP Issuu and follow us on Twitter @FlyJFP for sales and fashion news.
Where2Shop
Brown's Fine Art & Framing (630 Fondren Place, 601-982-4844);
circa. Urban Artisan Living (2771 Old Canton Road, 601-362-8484);
Everyday Gardener (2905 Old Canton Road, 601-981-0273);
Greenbrook Flowers (705 N. State Street, 601-957-1951);
SummerHouse (1109 Highland Colony Parkway, Suite D, Ridgeland, 601-853-4445)