Wednesday, January 19, 2011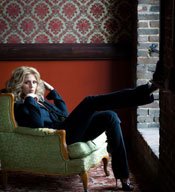 When ever I'm driving down to Hattiesburg for gigs, I always enjoy listening to the local radio stations. My favorite on the FM dial is Super Country 99.1. They play all the classic country songs my daddy (pronounced "deddy") and I listened to while I was growing up in Bogue Chitto, Miss. The station formed in the 1960s, playing the top-40 country songs of the day, and they have stuck to that format ever since.
The only difference is now they incorporate classic country songs from artists like country outlaws Merle Haggard, Waylon Jennings and Willie Nelson and hits from '80s and '90s country troubadours like George Strait, Dwight Yoakam and Rodney Crowell.
Because I listen to this station religiously, I notice a difference, and it saddens me that country radio has changed. Merle Haggard, a country legend, put out a an album last year, and no country station, it seems, would even touch it because it didn't fit their format. It's heartbreaking that the groundbreakers who paved Music Row are now left with hardly any ground upon which to stand.
To add insult to injury, this "new" country they're shoving down our throats is nothing but soft-core '70s pop—bad rock 'n' roll with a fiddle, says Tom Petty. I'll admit: I do like Zac Brown, Lady Antebellum and The Band Perry, but other than that, country radio just isn't what it used to be. It's selling out to tweens and teens.
I can only hope local musicians like The Colonels and Horse Trailer, and regional acts like Blue Mountain and Drive By Truckers, can overturn this corporate-country debacle, because I'm pretty sure Hank didn't do it this way. I'm pretty sure he didn't foresee country radio turning its back on the hands that feed them, either. But that's just me.
Now that I'm off my soapbox, let's get to the local music.
Thursday night, Jan. 20, is Centric Thursdays at Dreamz JXN. And Brooklynite Bret Mosley performs at Underground 119. Get there by 9 p.m. to catch the whole show.
Friday night brings us a night of awesome music in Jackson, with Candy's Riverhouse playing at Fenian's at 9 p.m.; Col. Bruce Hampton and the Quark Alliance blowing it out at Martin's at 10 p.m.; and the John Moreira Duo at Burgers and Blues from 7 to 11 p.m.
If you're a skating nut like I am (former blocker for the Capital City Roller Derby Team, right here), the Jackson Costume Club is hosting Jackson Roller Disco at Funtime Skateland of Clinton (931 Highway 80) with DJ Young Venom, DJ Scrap Dirty and Hot & Lonely. Doors open at 10 p.m., admission is $12, and you must be 21 to enter. Whenever there's a reason to skate and flash back to the '70s at the same time, I highly encourage it.
Also on Saturday, Jackson's favorite cover band The Molly Ringwalds give love a bad name at Fire at 8 p.m., and Jackson's newest upscale, urban lounge, Suite 106, hosts Kerry Thomas. Check-in starts at 9 p.m.
Sunday, Jan. 23, recover from the weekend with mimosas and Dixieland jazz at the King Edward with the Howard Jones Trio from 11 a.m. to 2 p.m. Jason Turner plays Burgers and Blues in the evening from 5 to 9 p.m., and jam out with Jackson's talented musicians at Mike and Marty's Jam Session at ToMara's from 4 to 9 p.m. The best thing about these Sunday events? They're all free.
Mark your calendars now for two upcoming January events. Jan. 26 is my birthday, and Steve Deaton (of Buffalo Nickel, Rubber Soul, The Frustrations, Men of Leisure) and I are playing at Fenian's that night. Many of my other Jackson musician friends will sit in to help me celebrate the day I kicked the world's doors wide open. Come help me celebrate!
Jan. 29, Hal & Mal's hosts a fundraiser for A River Blue, which raises awareness for Northern Uganda, with Blue Mountain, Taylor Hildebrand and the Kudzu Kings performing. You will not want to miss this event.
Hope your 2011 is going great, and if you see me out, please say hello.