Tuesday, January 18, 2011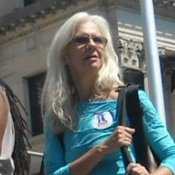 Cynthia Newhall was just a teenager when Dr. Martin Luther King Jr. was assassinated April 4, 1968. On April 18, her 16th birthday, Newhall decided to dedicate her life to the struggle for equality.
"Martin Luther King was the hero of my childhood," she said yesterday on the anniversary of King's birthday.
Born in 1952, Newhall calls herself a long lost daughter of the South. Her grandmother was born in Mississippi, and Newhall, who is a native of Washington, Pa., moved to Mississippi in 2007 from Los Angeles.
"I love Mississippi," she said. "I believe in Mississippi. The bravest of our American elders sacrificed to move us closer to democracy."
Newhall began her career as a broadcast journalist in 1979 and worked as a television director, producer and writer for various television stations including ABC for 25 years. For the past year, Newhall worked at Lumpkin's BBQ where she assisted customers and helped organize community events. She began volunteering as a filmmaker with the Mississippi Immigrants Rights Alliance in April 2010, and recently left Lumpkin's to serve as MIRA's communication and development associate. Newhall recently completed the organization's Building Racial Equity and Topple Hate Effectively (BREATHE) Oral History and Documentary project. For the project, she worked with a production team and interviewed 40 people across the state who exemplify the struggle for immigrant and human rights. The film was showcased at MIRA's annual UNITY conference in November.
"Its been received in a meaningful way," she says. "To hear the voices of African Americans and immigrants juxtaposed makes it vivid that there is an intersection in all human rights struggles."
She said MIRA is a way to build unity in Mississippi.
"MIRA's commitment to Mississippi is to build political and economic unity across boundaries of race, ethnicity, and class," she said. "… MIRA is a coalition-building organization ... and we will organize Mississippi."
Newhall is conducting grassroots organizing with MIRA to oppose Senate Bill 2179, similar to the controversial Arizona law that allows local and state law enforcement to ask for proof of legal residency from individuals they suspect to be undocumented residents. The Senate is voting on the bill today.
Newhall said she is honored to be back in Mississippi to "continue the struggle for justice."
"Deferred dreams and democracy combined are combustible," Newhall said.
Previous Comments
ID

161694

Comment

A well deserved honor to Cynthia Newhall.

Author

Rev. Fred L Hammond

Date

2011-01-18T14:35:03-06:00
ID

161696

Comment

Hats off to you Cynthia! I have to say that admire you're dedication. I've had brief conversations with Ms. Newell and one was when I lost my mother. She was so sincere and tender with me. i shall never forget that moment. Kudos, Cynthia!!!!

Author

Queen601

Date

2011-01-18T15:12:12-06:00
ID

161697

Comment

Go Cynthia.

Author

Meredith

Date

2011-01-18T15:17:07-06:00