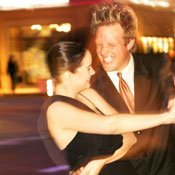 Don't let winter's frigid air keep you trapped in your home. This weekend has plenty of entertainment options worth warring the weather. Tonight, Metropolitan Opera soprano Susanna Phillips performs at Wesley Biblical Seminary (787 E. Northside Drive) at 7:30 p.m. Tickets are $40; call 601-278-3351 or 601-960-2300. For something a little different, head to Hal & Mal's Red Room, for Schroeder, A Bullet Well Spent and The Hot Pieces concert. Find the weekend's hot agenda in the Best Bets.
.
On Saturday morning at 10 a.m., bands, performers and local celebrities join together on Freedom Corner (intersection of Dr. Martin Luther King Jr. Drive and Medgar Evers Blvd.) to honor Dr. Martin Luther King Jr. during the parade "Dr. King's Dream: The Truth Marches On!" If you are trying to start the new year out on the right foot, head to Christ United Methodist Church (6000 Old Canton Road) for the Marathon Makeover's Kick-Off Saturday event at 10 a.m. The kick-off provides information about a 40-week fitness program that helps participants to train for and finish a half or full marathon. Cost is $299.95. Find more to do on the JFP Events Calendar
Saturday's nightlife is vibrant. F. Jones Corner's (303 North Farish St.) stage features Jackie Bell and Amazin Lazy Boi at 10 p.m., $5 admission; $10 after midnight. House of Hounds with the Riffs performs at Ole Tavern (416 George Street), and Jedi Clampett is at Fenian's (901 E. Fortification St.). Want more entertainment options? Check out theJFP Music Listings
Sunday is your last day to see a miniature replica of Jackson created with Lego blocks. The art installation is free at the Arts Center of Mississippi (201 E. Pascagoula St.). The Mississippi Film Institute hosts a screening of "Swan Lake," at 2 p.m. at Russell C. Davis Planetarium. After you spend an afternoon immersed in the arts, support a local restaurant such as Babalu, Aladdin, or Kiefer's. See the JFP Restaurant Listings and the Menu Guide for more dining options.