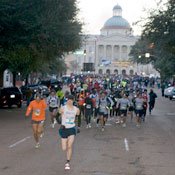 When 2,000 people swarm Jackson streets tomorrow morning, they'll be bringing dollars and a growing sense of prestige to the city. Saturday's Mississippi Blues Marathon is only the fourth year for this event, but it represents a long evolution.
The race has its roots in the smaller-scale Mississippi Marathon, which began in the mid-1970's as a race around Jackson and its suburbs but later moved to the Natchez Trace Parkway.
Blues Marathon director John Noblin traces the impulse for a larger event back to the Tour LeFleur, an annual cycling race that he directed in the mid-1990s. After that event ended in 2000, Noblin's thoughts turned to marathons. Music-themed, destination marathons had cropped up in San Diego and Nashville. Why couldn't Mississippi host a blues-themed marathon?
Noblin approached state tourism officials with the idea, but they were unmoved. "I guess it wasn't as mainstream as it is now," he said.
Noblin left the idea alone for several years, until he teamed up with a group of marathon-mad businessmen and contacted Blue Cross Blue Shield of Mississippi, which he knew was looking for a marquee sponsorship opportunity.
The race has grown since its first year, 2008. In 2009, the race boasted 1,443 competitors. This year, organizers have received more than 2,000 registrations.
In honor of what would have been Elvis Presley's 75th birthday, this year's race has an Elvis theme, including finisher's medals in the shape of gold records. Noblin said that licensing Elvis' name and image was surprisingly easy. The chairman of the Tupelo Elvis Festival directed him to Elvis Presley Enterprises, which has an entire department dedicated to licensing agreements for events. Noblin also praised city and county officials for their cooperation.
"The city and the county are great to work with, and understandably--the city benefits from it," Noblin said. "There's no other event that would bring people from 47 states in to participate on a single day."
The Jackson Police Department will provide traffic control along the race course. The only blocks closed to traffic will be State Street, between Pearl and Amite streets, and Capitol Street, between Congress and State streets. For the rest of the route, runners will have dedicated lanes on four-lane roads. On residential streets, race organizers are asking drivers to be courteous and yield to runners.
For weeks, work crews from the city and county have patched potholes and cleaned up the marathon route, clearing out curbs and gutters, picking up trash and cutting tree limbs. A lifelong Jacksonian, Noblin says that he appreciates the difference the city's work makes, especially after it discontinued loose-leaf collection and street sweeping.
"This at least gets folks out there cleaning up and picking up," Noblin said. "At least for the part of town that these folks see, they get it looking really good."
The race's economic benefits to Jackson are significant. The Jackson Convention and Visitors Bureau estimates that the marathon contributed $389,648 to the city's economy in 2009, the most recent year for which data are available. With more participants this year, the race will likely pack an even greater economic punch.
Beyond spending on hotels, food and entertainment, the race also directs money to local businesses through printing and advertising, Noblin pointed out.
"The ripples go way out beyond just 'How many people came into town that don't live here: how many nights did they stay and what did they eat?' It ripples out a good ways, because there are a lot of moving parts for something like this," Noblin said.
A pre-race Blues Expo runs at the Jackson Convention Complex from 9 a.m. to 7 p.m. today, with live blues performances from 10 a.m. to 5:30 p.m. At 5 p.m. today, a special marathon-themed edition of Downtown At Dusk begins on the Old Capitol Green adjacent to the Old Capitol Museum. Nationally-acclaimed Elvis impersonator Brandon Bennett performs at 6 p.m.
The marathon itself starts at 7 a.m. Saturday at the intersection of Capitol and State streets. For a course map and more information, visit msbluesmarathon.com.