Friday, February 18, 2011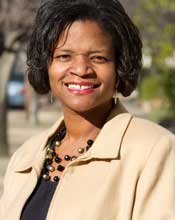 "I'm pretty much a glorified driver," Vera Johnson says, referring to the time she spends chauffeuring her two children, Elisabeth, 9, and William, 5, to activities like dance classes or basketball practices.
"We spend a lot of time in the car, but we also spend a lot of time talking in the car," she says. "Maybe it's talking about what's going on or bringing up current events or what they're learning about in school."
Johnson, 38, suggests that busy parents use time in the car and every other opportunity to stay involved with their children. As Parents for Public Schools of Greater Jackson program coordinator and parent organizer, Johnson leads by example. Part of her job is to help Mississippi parents get involved in their children's education.
"We know that if you have involved and committed parents, it makes a difference in the schools," Johnson says.
The Hattiesburg native graduated from the University of Southern Mississippi in 1996 and moved to Jackson with her husband, Sherwin, 38. Johnson became involved with PPS by attending a "Lunch Bunch" meeting and completing the Parent Leadership Institute in 2007.
"I have always been a big supporter of public schools, being a product of public schools," she says. "I always thought it was a great utopia and a great mix of everything."
In the Indianola School District, Johnson works with a grant from the Delta Health Alliance to help the district increase parental involvement. The program offers Tuesday night family-art classes, followed by an hour of discussion and enrichment for parents as one way to involve parents.
Johnson hopes Mississippi public schools can see more efforts like these.
"I'd love the arts (to) be integrated into all the schools," Johnson says. "... If I had a dream for schools it would be that we're not just teaching from the textbooks, but we're having them become more visual learners."
Johnson works with fellow PPS Leadership Institute graduates to keep them connected. She also likes to keep herself involved by volunteering. Johnson serves as a Girl Scout troop leader, teaches children's Bible study at her church, Black's Chapel, and is a member of her children's parent-teacher associations.
"I also like to scrapbook and create memories, as if you couldn't tell," Johnson says, gesturing around her office where she has placed photos of her family on practically every surface.
Johnson seems to have no plans of slowing down when it comes to staying involved in her kids' lives.
"The other day I leaned over to my (troop) co-leader ... at my son's basketball game and said, 'They're having a coaches' meeting for T-ball on Tuesday, wanna go?" she says, laughing.