Wednesday, February 16, 2011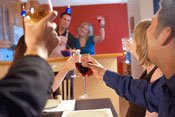 Charters-school advocates are looking to change the state's current law to allow charter schools to use lottery enrollment. The Mississippi Legislature passed SB 2293 last year, creating a process for transforming some failing public schools into "New Start Schools" and "Conversion Charter Schools." Under that law, charter schools are independent of local school districts in some rules and regulations, with parent-elected independent boards, instead of boards appointed by a city council or mayor. The new schools must comply with the rules and standards of the State Board of Education, however, and converted charter schools must also accept the same students enrolled in the school prior to its conversion.
Senate Bill 2774, which the Senate passed last Thursday, alters that law by exempting conversion charter schools from "regulation, ... of the State Board of Education," except where applicable under the federal No Child Left Behind Act and Department of Health regulations, among a few others.
The new bill, if passed, also installs a lottery program to determine new applicants to the charter school, rather than forcing the school to accept all students zoned for the school. The lottery applies to new student applicants one year after the school's application for conversion, and only kicks in if the number of applicants exceeds the school's capacity, as set by the school's charter.
Former Jackson Public Schools Superintendent and current Mississippi NAACP Education Chairman Earl Watkins said legislators should wait to see whether the 2010 law is successful before trying to alter it.
"Any time the proponents of charter schools seek to debunk what we have in place that requires you serve the same population ... you have to ask yourself what exactly are they looking for? ... [Y]ou deduce that they have issues with things like who goes to the school, and who is the authority in the school," Watkins said.
Sex and Medicaid
School districts must adopt an abstinence-only or abstinence-plus sex-education policy under a bill the House passed last week. Current state law requires that school districts teach abstinence-only education, unless the local school board votes to teach comprehensive sex education. But many school districts do not have a policy specifying what they teach.
Democrats in the House, including Reps. Cecil Brown, D-Jackson, and House Education Committee Vice Chairwoman Sara Thomas, D-Indianola, support comprehensive sex-education in public schools. Both argue that knowing the facts about sex prevents sexually transmitted disease and unwanted pregnancy.
The state's in-person requirement for determining a Medicaid beneficiary's eligibility could end if the Senate approves a House bill removing it. House members passed HB 1359 last Wednesday, which would allow a beneficiary to apply for Medicaid through the mail. Removal of the in-person component remains unpopular among Republicans, however, who largely voted against the bill last Tuesday with a 49-to-65 vote.
Anti-Smoking Bill a Butt
Critics say restricting smoking only in university and government buildings and vehicles isn't going to cut it. The Senate last week unanimously passed Senate Bill 2726 that mandates those smoking restrictions. The bill, however, is a weaker version of an earlier bill, which prohibited smoking in most public places including arenas and stadiums, and places of employment, including restaurants.
Sen. Tom King, R-Petal, submitted the amendment watering down the bill. King told the Jackson Free Press he submitted his amendment because he considered the smoking issue to be "a private property rights issue."
"It's up to the restaurant owner if they want to allow smoking or a smoking section," King said. "It's my right as a customer to choose not to go there."
The U.S. Constitution does not protect the right to smoke as a privacy issue, however, nor does it protect smokers as a protected group according to a California Department of Health Services report. The Supreme Court typically requires a protected group to have "an immutable characteristic determined solely by the accident of birth."
Dogs and Drinkers
Abusers of domesticated dogs and cats will face harsher penalties if the House passes SB 2821, which the Senate passed last week. The proposed law imposes a $1,000 fine or imprisonment of up to 90 days for "mischievously or recklessly" killing, maiming, wounding, beating, poisoning or depriving a dog or cat of food, shelter and water.
The penalty makes it a felony for the same acts of abuse committed "intentionally or maliciously, or out of the spirit of revenge or wanton cruelty." A conviction, under that determination, sets a fine of up to $10,000 and five years imprisonment, or both.
Adults who allow a party at a private residence containing minors could face criminal penalties if they know alcohol is present. Sen. David Blount, D-Jackson, sponsored Senate Bill 2597, which passed the Senate last Wednesday, setting a fine of $1,000 or up to 90 days imprisonment at a county jail for an adult who violates the law.
The flurry of bills passed last week in the Senate and House preceded a Feb. 10 legislative deadline for floor action on bills originating in their own house.