Wednesday, April 20, 2011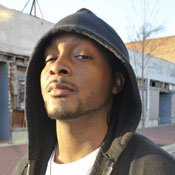 Jackson rapper Stephen Brown, aka 5th Child, spends the majority of his time in his bedroom studio making music. When he has a show to rock, you can count on him being there and killing it. The rest of the time, you can count on the 24-year-old staying in Friday nights to dig for samples, make beats and write lyrics.
It was only fitting, then, that to talk about his new self-titled album due out later this spring, we met in his bedroom, "the corner studio" as he likes to call it.
Everything he needs is within arm's reach: a MacBook Pro, a turntable, keyboards and a microphone. Those 
are the tools of the trade for Jackson's double-threat rapper and producer.
"5th Child" is Brown's fifth album and the third in a trilogy including "Behind the Music" and "Pianos in the Dark," his previous two efforts.
"Each of them is concept driven and reflective of where I was as a person when I made them," he says.
"Behind the Music" was a complex examination and critique of the music industry, and found Brown in a "celebratory" mood, with college graduation looming. "Pianos in the Dark," with its gloomier soundscapes and darker subject matter, represented Brown's "transition into adulthood, where you learn that most things you were taught about the future were not true," he says. Brown began to question his role in the hip-hop game, wondering what it all meant and where he even fit in anymore.
"5th Child," the album, provides answers to the existential questions Brown faced.
"The new album is about self-actualization and not trying to find explanations for everything anymore. It is about realizing and accepting who I am wholeheartedly," he says. "I finally learned how to be 5th Child."
This is evident when listening to the record, as 5th sounds more confident and more grown up than in any of his previous work. In short, he sounds happier, and his swagger is back.
As he was coming out of his "Pianos in the Dark" funk, 5th decided to focus on music exclusively.
"I quit going out and just worked on music all day every day," he says. He had a bunch of beats lying around and thought about doing a mix-tape, but quickly realized that it was time to make a new full-length album. "Songs just started coming out like this," he says, snapping his fingers.
Brown produced many of the songs in a matter of a several hours each, but nothing on the album sounds rushed or forced.
"I wanted it to sound big and epic," he says.
The vast, yet ethereal horns of the opening track, "Introducing," set a cinematic tone for the rest of the album. He delves into first-person storytelling territory with "Bedtime Story" and even dies at the end, "just like in the movies." With "Breaking Point" and "Free," Brown steps out of his comfort zone to experiment with new drum patterns and novel ways of using his voice as an instrument. One "ridiculously hood "song, "Stand For," allows Brown to lampoon the funnier side of some radio-friendly hip-hop.
The sum total of "5th Child" is an album that sounds complete and represents for Brown, "a moment of acceptance where I'm not afraid to be that guy. I am ready to accept that role." He laughs.
"It's my Simba moment."
"5th Child" drops this spring. Visit http://5thchildmusic.bandcamp.com for free downloads of "Behind the Music," "Pianos in the Dark" and previews of a few tracks on the new album.
Previous Comments
ID

163226

Comment

I am such a fan!!!! This guy ROCKS and he has a song called Hometown that anyone in the city of Jackson who calls this place their hometown should be playing at least once a day! I do! I saw him perform on the break of passing out last weekend. As disappointed as I was that I didnt get more of 5th....it showed tremendous dedication and respect for us that him to get up there even being ill; a true test of character. Good look'n Garrad!!!

Author

Queen601

Date

2011-04-20T15:12:29-06:00
ID

163236

Comment

Yes!!! I have known Stephen for a long time. I have always been impressed by his talent. I have all of his free downloads, but would happily pay for a copy of anything he does. A true artist! Good work, my friend!

Author

Tre

Date

2011-04-21T08:12:03-06:00
ID

163241

Comment

Thanks for reading everyone. I could have written a cover story on 5th; he gave me so much good stuff. He is always a pleasure to work with and be around. @queen-that show was incredible, wasn't it? He looked and felt like death and still rocked it. True artistic dedication. Young cats could have learned something.

Author

gwhiz

Date

2011-04-21T12:22:12-06:00
ID

163245

Comment

ABSOLUTELY!!!!! Hip Hop has that affect on people -- those of us who feel it in our bones that is....others....well.....you know......

Author

Queen601

Date

2011-04-21T14:43:53-06:00
ID

163246

Comment

By the way, can a sista get an email, call, text, tweet, FB comment or something next time he's performing live. I have to SEE him perform Hometown (among others)!!!!!! I've adopted it as my theme song! ;-)

Author

Queen601

Date

2011-04-21T14:45:39-06:00
ID

163247

Comment

@queen-I always post on facebook when 5th and other Jackson hip hop artists I work with play shows. There is usually facebook events for them to. Next time he has a show I'll be sure to let you know. He does Hometown from time to time and it always kills.

Author

gwhiz

Date

2011-04-21T15:03:33-06:00
ID

163248

Comment

http://www.youtube.com/watch?v=FR_rT1YsyA8

Author

Tre

Date

2011-04-21T15:06:21-06:00
ID

163250

Comment

I wish the young fellow here the best! Queen did you and the husband hear the scathing criticisms Ashley Judd put on rappers in her new book? Some of what she said even offended me as hard as I am on rappers. She appeared to be totally blind about the genre of music. I'm not blind, just critical. Also I heard Luke the Crymaker is running for mayor of Miami. God help us if he wins. Duan, in that event, we'd finally see more tails than any of us can stand.

Author

Walt

Date

2011-04-21T16:57:13-06:00
ID

163254

Comment

Walt....wait now....Luke appears (to me) to be abit more grown than he was during the Too Live Crew days. Surely you don't think this married man with children is the exact same man he was then. Have you not changed at all in 10 years?

Author

Queen601

Date

2011-04-22T07:53:16-06:00
ID

163255

Comment

Yes, I saw Ashley's comments and her attempt to apologize for them. My take is that she is scorn and bitter. I think she's struggling to become whole and just doesn't know how to feel about many things. She is clearly not a rap fan because if she was she'd know that although there are songs out there that fall into the category of unflattering to women, and whatever else she says, there are still very positive songs and artists. It's important that people stop trying to place hip hop into one category! The culture is bigger than that. Just like you have good and bad people, you have good and bad hip hop. People like what they like. As long as some people like the music she dislikes, they'll keep making it. My husband, 5th child and others are positive rappers. I KNOW THEY EXIST. She stumbled in her struggle to find her own way and made a statement that I'm sure she hates she said out loud. But, I wish her the best as she grows and works through her own "stuff". We need to learn to overlook some stuff people say in the heat of the moment or when their dealing with tragic situations.....it happens, it's life. I still love her! :-)

Author

Queen601

Date

2011-04-22T08:02:39-06:00
ID

163538

Comment

The album is out now. And since 5th is a man of the people, he is offering the album for FREE for a limited time!!! Get it here-http://5thchildmusic.bandcamp.com/ Support local artists!

Author

gwhiz

Date

2011-05-15T12:23:44-06:00