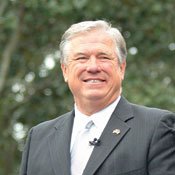 The state's mental-health facilities may be open another year, now that Democrats in the Mississippi House of Representatives agree with Republican Gov. Haley Barbour on a new $5.5 billion state budget.
"The House almost got their full budget for the state's mental-health centers," said Mississippi Economic Policy Center Director Ed Sivak. "They got within $2.7 million. The sweet spot was $252 million. They've got $249.3 (million). That, I've heard, will allow the state's mental-health facilities to continue to do what they do."
Several of Mississippi's state-funded mental-health centers, including the Central Mississippi Residential Center in Newton, faced closure this year as the governor considered cutting their funding completely. Barbour argued a week ago that the state needed to consider expanding its reserve account over maintaining mental health centers, whose services, he said, could be duplicated by smaller, personal-care homes.
The governor and the Mississippi Senate were less willing to House leaders what they wanted for spending onK-12 education , which will suffer a $12 million reduction in the 2012 budget year, compared to this year. The state formula for allocating funds to local school districts, known as the Mississippi Adequate Education Program, will see a $5.5 million reduction in 2012 compared to this year.
House Speaker Billy McCoy, D-Rienzi, joined House Appropriations Committee Chairman Johnny Stringer, D-Montrose, and House Education Committee Chairman Cecil Brown, D-Jackson, in criticizing Barbour for trying to cut the state's education budget last week. This week, however, all three appeared to accept what the new budget had in store for public education next year, despite obvious budget reductions.
"This is a compromise budget. Whenever you compromise, you have a lot of give-and-take on both sides. That's what happened here," said McCoy in a statement. "While the final budget document may not have everything that the state House wanted, I, Chairman Johnny Stringer and Chairman Cecil Brown are convinced this does what we in the state House have wanted to do the entire session: adequately fund our state agencies, including those that were threatened by severe funding cuts--public schools, mental health, public libraries, homestead exemption, vital agriculture and forestry programs, and other areas."
According to numbers from Mississippi Professional Educators, the schools for the blind and the deaf will see a $241,709 reduction next year compared to this year, while Mississippi public television will suffer $357,720 in reductions. State funding for the Library Commission will only drop $41,103 compared to last year.
The 2012 budget has $5.7 million in reductions in store for the state's Institutions of Higher Learning, although senators and the House leaders were willing to offer an extra $9.8 million to the state's community colleges, compared to this year.
Legislators cannot address appropriations bills within the final five days of the regular legislative session, so legislators agreed to extend this year's session to April 11. The session would have ended April 2.