Wednesday, September 29, 2010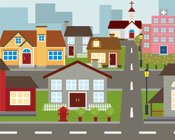 Neighborhood association members in Jackson are all bound by one commonality: intense pride in and concern for their neighborhoods. They view their neighborhoods as their personal investment and want to preserve and protect them for future generations of residents. It takes effort to keep a neighborhood thriving and even more doing to revitalize one. The return on investment looks pretty good. Here is some advice on forming a successful neighborhood association:
Get Organized
• Neighborhood associations often start because residents see a problem or a potential problem. Residents usually identify a shared vision of what they want their neighborhood to be. "It takes a handful of dedicated people," Margaret Bucci, president of Wildwood North and SunValley Neighborhood Association, says.
• Kaarlon Mann, co-founder of the Belhaven Heights Community Association, cites crime and absentee landlords as the impetus for getting organized while Maggie Benson White, president of West Park Neighborhood Association, says she and her neighbors felt their area was overlooked. West Park partnered with the Jackson Zoo to reinvent their neighborhood.
• Ada Robinson, co-chairwoman of Wingfield Central Neighborhood Association, says her neighborhood association formed out of concern for vandalism.
• Make a plan for attracting residents to your neighborhood. "People were moving out, and younger people weren't moving in," Mary Jo McAnally, associate director of the Fondren Renaissance Foundation, says. "We wanted to be an all-inclusive neighborhood." Ron Aldridge, treasurer of the Belhaven Improvement Association, cites their goal of creating a neighborhood people want to live in.
What They're Proud Of
• Neighborhood associations give residents a cohesive, unified voice in their communities and can be powerful agents for change. Bucci is proud of the fact that her association got Woodfield Drive paved by petitioning the city for funds. Aldridge points out his association's ability to purchase a trailer to take glass products from Rainbow Co-Op to a recycling plant. He is also proud his association has made Belhaven a historic district. Property owners donated land between Provine High and St. Mary's Catholic School to Benson White's association property for a neighborhood park. McAnally says the Fondren Renaissance Foundation played a key role in saving The Cedars, Jackson's oldest residence structure. Once marked for demolition, the building now serves as a vibrant meeting place and reception area.
Getting Young People Involved
Getting young people involved is still a challenge in Bucci's neighborhood: "We would love to have more young people." Benson White hosts an annual Halloween celebration to give neighbors an opportunity to meet one another and provide their children with a safe and fun environment.
Robinson's association also engages young people by providing children's activities and is tentatively planning a harvest festival for this fall.
How to Get Involved
For more information, visit:
•Fondren Renaissance Foundation at http://www.fondren.org/.
•Broadmeadow Neighborhood Association at http://www.topoffondren.com,
•Belhaven Heights Community Association and the Belhaven Improvement Association at http://www.greaterbelhaven.com.
•Washington Addition Neighborhood Association, call President Blonda Mac at 601-353-3054
•Alta Woods Neighborhood Association at http://www.altawoodsjackson.com
•The Association of South Jackson Neighborhoods http://www.asjn.com
These websites contain a wealth of information on joining as a member, meetings, association officers and neighborhood events, but not all neighborhood associations have a website or phone number. Realtors can be a great resource for finding about if your neighborhood has an association. Some associations charge dues, but may charge renters a reduced fee in order to encourage their involvement. Many local businesses and even hospitals are involved in neighborhood associations.