Wednesday, September 29, 2010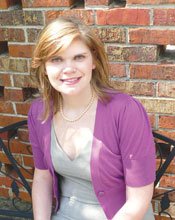 "When I was 5, I told my mom that I wanted to be three things: I wanted to be a lawyer, a cheerleader and an actress, and they're kind of all the same thing," Maggie Middleton says, laughing at her youthful comparisons.
Middleton, 26, grew up with adults who taught her the importance of being assertive. She credits her family with teaching her the value of advocating for people who are not able stand up for themselves.
She received her bachelor's and law degree from Ole Miss and began working for the U.S. Department of Justice in Jackson almost a year ago.
After graduating from law school in May 2009, the Lula, Miss., native had to choose between a job offer in Washington, D.C., or Jackson.
"I think a lot of younger people leave Mississippi because they feel like there aren't as many opportunities here," Middleton says. "So I thought since I did have the opportunity to stay and do what I wanted to do, that I should jump on that. I think that the more young professionals who stay here, the better the state will be."
When she's not working, Middleton enjoys living downtown in the Electric Building and is a big fan of the local karaoke scene. She loves that she can find karaoke any night of the week and enjoys performing duets with her good friend, Coleman Carlisle.
"I like to sing Barbra Streisand, and we're both very inspired by 'Glee,'" Middleton says. "Coleman and I will sing 'Total Eclipse of the Heart' like our lives depend on it. People here are so accepting of that attitude. You don't have to be good; you just have to want to do something. You just have to care."
Middleton is excited to be part of the revitalization of downtown and has a few ideas about how she plans to contribute. She says that she and Carlisle have talked about starting a kickball league to help young professionals in Jackson and the surrounding areas connect.
"I think it's a brilliant plan because that way more people could get to know each other. And with kickball, you don't have to have any athletic talent," she says.
Middleton plans on staying in town for the next few years because she loves her job and of the opportunities that Jackson has to offer.
"I used to joke that moving from Oxford felt like being cast out of heaven," Middleton says. "But really, if you're going to be cast out of heaven, Jackson is not a bad place to end up at all."