Wednesday, September 22, 2010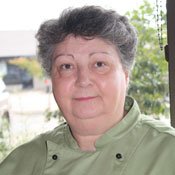 When I was 10, my mother was matron-of-honor in a wedding. I remember it vividly and would love to say the thing I remember most was seeing her beautiful dress, but I'd be lying. What I remember most was the food, catered by Bon Ami.
I had just started a whole-wheat diet, and my preteen taste buds would cry every time I ate a piece of cardboard-like whole-wheat bread. I finally accepted that carbs couldn't taste good. Bon Ami proved me wrong with one bite of whole-wheat crawfish penne. I've been to fabulous parties and had some enjoyable experiences with caterers since, but Bon Ami still holds a special place in my heart.
A family-owned restaurant, Bon Ami, off Interstate 55 in the Maywood Mart, has been open at its current location since 2000. Mississippi native and Pearl resident Paula Vaughn, Bon Ami's catering coordinator, is the woman behind the deliciousness.
Where did the name come from?
My brother Jim is the owner—he and his wife, Jane. Bon Ami means "good friend," and he wanted something that would be a good name, a friendly name. Bon Ami is French (for "good friend"), and he kind of wanted the restaurant to have a French feel (because) we do a lot of New Orleans-type cuisine.
When did you start in the food industry?
I've been in business with my brother ... since 1997. I started many years ago taking a lot of classes at a little place out on Terry Road called Decorator's Delight. The first thing I started doing was mostly wedding cakes. Then my brother started his catering business, so I started working with him doing his desserts and things like that. I just love to cook.
What's your favorite thing to cook?
I love cooking desserts, but I'm well rounded. I can cook anything, and we pretty much can do anything. One of the things from catering that we've brought into the restaurant that everyone seems to love is my shrimp and grits. I also love cooking seafood; I think gumbo is one of my favorite things.
What's been the most interesting request you've received for an event?
I guess (at) one of the biggest weddings we did grilled oysters on the half-shell.
What do you think the most important things a couple should ask their caterer?
We usually sit down with (a couple) and find out what their likes and dislikes are ... get to know them a little bit ... get a feel of them. I think just sitting down with them and knowing the things they like and don't like is really important.
Are the catering items based on the Bon Ami menu, or are they created custom for an event?
I don't always base it off of the restaurant. ... One time we had a young man that loved crawfish, so we did the rehearsal dinner with boiled crawfish and homemade ice cream. I think I made about fifteen freezers full of homemade ice cream and we boiled probably about 200 pounds of crawfish. It just kind of depends on what they like, and we try to implement it the best that we can.
Why do you think food is such an important part of an event?
Here at the restaurant, we feel that food can be a healing process. People come in and order something, and they enjoy it, and they just sit down and have a good atmosphere. So when we have a big event ... it just makes it a good fellowship.
What do you love about catering?
Actually cooking the food I love cooking. I love the end product; I love that people enjoy what I cook. I do some wedding cakes. I've done some pretty fantastic wedding cakes. I'm not bragging on myself—well, I guess I am—but I had some that have been in Mississippi Magazine.
My favorite wedding cake that I've ever done was a fresh pear cake with a cream cheese (icing) with orange liqueur and Grand Marnier. That's a recipe I came up with and created, and I loved doing it.
I have also done a Vera Wang-designed cake. Just paying attention to the detail ... on a cake and seeing the end product is great for me.
Contact Paula Vaughn at Bon Ami (1220 E. Northside Drive, Suite 230, Maywood Mart) by calling 601-982-0405, or by e-mailing her at [e-mail missing].
Chicken Marsala
8 boneless, skinless chicken breast halves
1/2 cup chopped green onions
2 cups sliced fresh mushrooms
2/3 cup Marsala wine
2/3 cup heavy cream
1/4 cup milk
Salt and pepper to taste
1 package of angel hair pasta
Sauté chicken in a large skillet for 15 to 20 minutes. Add green onions and mushrooms, and sauté until soft, then add Marsala wine and bring to a boil. Cook about two to three minutes, season with salt and pepper, and then add cream and milk. Let simmer for about six to eight minutes until heated through.
Serve over cooked angel hair pasta, prepared according to the package.
Black-Eye Pea Salad
2 (15 ounce) cans black-eye peas, drained
1 large tomato, chopped
1 medium red bell pepper, chopped
1 medium green pepper, chopped
1/2 red onion chopped
2 tablespoons chopped parsley
3 tablespoons red-wine vinegar
2 tablespoons olive oil
Salt and pepper to taste
Toss together black-eye peas, tomato, red and green bell peppers, red onion and parsley.
In small mixing bowl, mix red-wine vinegar and olive oil. Season with salt and pepper. Toss into the vegetables, and cover and chill for four hours or overnight
For wedding receptions, Vaughn loves a southern theme with grilled chicken tenders, black-eye pea salad, potato salad, stuffed eggs, pasta salad and fresh fruit with fresh baked breads.