Tuesday, September 21, 2010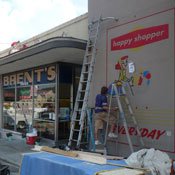 A new upscale sushi restaurant is set to open this December on Capitol Street. Wasabi Bistro is a collaboration between owner Lina Lynn, who also owns Ding How Asian Bistro in Ridgeland, and two newcomers, attorney Tami Lynn Munsch and Ronnie Isaac. Munsch and Isaac are helping design the bistro's menu and bar offerings.
Munsch describes Wasabi Bistro's atmosphere as "sleek, contemporary and modern." The restaurant will have an extensive martini list, with happy-hour specials aimed at the downtown professional crowd, Munsch says.
The restaurant's location, at 100 E. Capitol St., will benefit from the city's plans to remove the external ramps on the Parkway Properties parking garage, Munsch said.
Parlor Market Opens
Parlor Market, the first project of chef and Jackson native Craig Noone, opens today on a reservation-only basis. The fine-dining restaurant merges traditional southern cuisine with a contemporary outlook. Call 601-360-0090 for reservations.
Fondren Gets a Makeover
Brent's Drugs is one of several businesses to receive a 1960s makeover this week. Crews for the filming of "The Help" have repainted Brent's signage and converted the restaurant into a pharmacy with vintage retail products.
Brent's closed for filming Sept. 19 and will reopen Sept. 27. Owner Brad Reeves says his business will keep the freshly painted signage, but its interior will return to normal upon reopening.
Reeves says DreamWorks Studios has properly compensated him for the loss of business during the filming and hopes that the film will draw people to Fondren just like "A Time to Kill" and other films did in Canton.
"It hasn't been an inconvenience for us," he says. "The one thing I'll say is that you can't buy the exposure, you can't put a price tag on it. If this scene ends up in the movie, we certainly love to do it. Places like Canton, when you have people from out of state, they want to come see where the movie has been filmed."
In between Brent's and McDade's Market, Brandon artist Aubrey Hursh finished painting a mural reminiscent of a 1960s advertisement yesterday. The mural features a woman pushing a cart of groceries with the slogan: "Be a happy shopper. It's fun to save."
McDades co-owner Kathy McDade says in light of recent positive feedback, she plans to keep the mural after the filming.
U.S. Senate Passes Small Business Bill
The Senate approved a bill Thursday that would provide $12 billion in tax breaks to small businesses and create a $30 billion small-business lending fund. The bill, which has been delayed for months, passed 61 to 38 with only two Republicans joining Democrats in voting for passage.
The bill's tax breaks are intended to increase hiring and investment, and Democrats have estimated that the bill could create 500,000 jobs. The lending fund would alleviate the credit crunch squeezing small businesses by giving them access to government-backed loans through community banks.
Business Incubator
Venture Incubator, a new consulting and mentoring resource for startup businesses, is opening its doors to local business owners and entrepreneurs tomorrow. The incubator is a project of Downtown Jackson Partners and received roughly $46,000 from DJP to get started.
Under Executive Director Wes Holsapple, the incubator aims to serve product-focused and service-focused businesses that may not qualify for help from other institutions, like the technology-focused Jackson State University e-Center. Venture Incubator will offer office space, telephones, meeting space and other essential services.
The incubator is hosting a seminar and open house tomorrow, Sept. 23, in the Regions Plaza Building at the corner of East Capitol and Lamar streets. The seminar, at 3 p.m. in the fourth-floor conference room, will introduce business owners and entrepreneurs to Venture Incubator's services. The open house, in Venture Incubator's second-floor offices, runs from 4 to 6 p.m. Both events are free. To RSVP for the seminar, email [e-mail missing] or call 601-906-4648.
MLK Parade Earns Award
The Southern Tourism Society has recognized the annual Martin Luther King, Jr. Celebration and Parade in Jackson as a Top 20 Event. The parade, which drew 40,000 people to Jackson in 2009, takes place every January and includes gospel music performances and a talent show in addition to the parade. The 2009 celebration produced an economic impact of $3.4 million for the city, according to the Jackson Convention and Visitors Bureau.
Previous Comments
ID

160002

Comment

Well, my wife daughter and I just ate an amazing meal at Parlor Market. The atmosphere is great (low light, not dim; good music and crowd feel, but it isn't overpowering; the staff are _awesome_). The food ... the food is incredible. I had a dozen raw oysters with their 4 sauces (I'll suggest the bloody mary cocktail sauce and the bacon minuet (sp?) and their cheese plate. The cheese plate blew me away. It was simple and outstanding - I literally have not had anything like it since Luis Bruno had his own restaurant. My wife and daughter split the tea and brown sugar infused chicken (also awesome). The strawberry cake baked in the mason jar was wonderful, and my daughter had some peach ice cream. All in all, it was expensive and requires reservations but completely worth it. It was a unique and pleasant dining experience and I'll go back again. Heck, we made reservations for New Years. Now to find a baby sitter for then...

Author

Pilgrim

Date

2010-09-25T20:08:26-06:00