Monday, September 20, 2010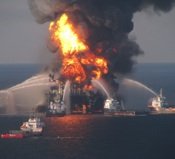 Federal officials confirmed that BP has permanently sealed the well at the site of the April 20 Deepwater Horizon oil-rig explosion, The Sun Herald reported yesterday.
BP officials used a cement plug to seal the well 2.5 miles below the sea floor. Officials contained the well in mid July with a temporary cap; however, the blowout had to be sealed from the bottom for officials to declare it permanently sealed. Approximately 206 million gallons of oil have gushed into the gulf since the explosion.
Gov. Haley Barbour released a statement yesterday claiming that his administration will continue to evaluate the oil disaster's economic and environmental impact on the Coast.