Thursday, September 16, 2010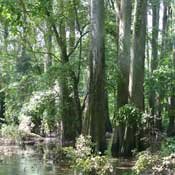 Read Johnson's Ruling (PDF, 224 KB)
The state wrongly fired a forester who spoke out against a logging plan pushed by Secretary of State Delbert Hosemann, Franklin County Circuit Judge Forrest Johnson ruled Sept. 3.
Franklin County Forester Stephen Oglesby said the plan would decimate the county's 16th Section land and leave its school system--which derives revenue from timber sales--without a revenue source in 20 years.
Oglesby told the Jackson Free Press in August 2009 that State Forester Charlie Morgan was working under a new Memorandum of Understanding with the Secretary of State's office that he claimed reflected Hosemann's desire to increase revenue on 16th Section land.
The Mississippi Employee Appeals Board affirmed Oglesby's termination last year, but Oglesby appealed their decision to Franklin County Circuit Court, which decided this month that Oglesby did not break the law in his refusal to make his superiors' overly-aggressive policy his own.
"Even with the limited review, this court fails to find such evidence of actual insubordination in the record," wrote Forest County Circuit Court Judge Forrest Johnson. "What this court does find in the record is that Oglesby was willing to abide by the new policy and drew more aggressive timber management plans, consistent with his understanding of the new policy. The only evidence of an outright refusal to do something is Oglesby's refusal to sign off on his superior's plan as his, which plan he believed to be even more aggressive than the official strategy or policy of the state forester."
Oglesby told the Jackson Free Press last year that his superiors first ordered him to reduce a 60-year harvesting plan to a less sustainable 30-year harvesting plan, but then said his superiors sent him back to "clear-cut practically everything within the next 10-year time period."
The court order states that Oglesby was willing to implement his superior's "far more aggressive plan," but refused to sign off on it for "professional ethical reasons."
Oglesby said this morning that he is asking the court to be reinstated in his job and be paid lost wages. The state Forestry Commission may appeal the circuit court decision. State Forester Charlie Morgan did not immediately return calls for comment.
Read JFP's June 2 article "16th-Section Logging Too Zealous?," for more information on the issue.
Previous Comments
ID

159793

Comment

Thank you for excellent investigative reporting.

Author

ScoutandBoo

Date

2010-09-16T17:41:26-06:00
ID

159806

Comment

Let's save the State some money. Give the man back his job; Pay him his lost wages; Understand that this is not your private company; Let there be no back-lash or black-balling for this man standing up for protecting his signature on what seems to have been a BAD deal.

Author

justjess

Date

2010-09-17T12:42:14-06:00