Thursday, September 16, 2010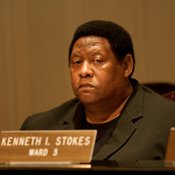 The Henley-Young Juvenile Justice Center does not have the resources to house children picked up for violating a proposed curfew reinstatement, county officials told the Jackson City Council Planning Committee members yesterday.
Ward 3 Councilman Kenneth Stokes and Council President Frank Bluntson are pushing for the return of a city curfew on minors restricting them from public places from 11 p.m. or midnight, depending on the day, through 6 a.m. the following morning. The curfew expired last year, but some councilmen want to bring the curfew back in an effort to curb alleged criminal activity by unsupervised city youth.
The ordinance mandates that police who collect curfew violators contact the minor's parent or guardian to pick them up. However, if police cannot reach the offender's parents, the ordinance states that police take the minor to the Henley-Young Juvenile Justice Center. But Hinds County Emergency Medical Service Coordinator Ray Bryant told the council today that the facility does not have the resources to handle the new influx of status offenders, minors who violate the curfew but who have no other offenses or alleged violations on their record.
"Hinds County just passed its own budget, as you have passed yours, and the county has furloughed detention officers for eight days," Bryant told the council, adding that the county would also have to absorb extra costs connected with feeding and housing the youths for the 24-hour period they could be in custody. Federal restrictions prevent the detention center housing status offenders with offenders with criminal records.
Alfred Martin, chairman of the Mississippi Juvenile Justice Advisory Committee said the U.S. Department of Justice was already withholding federal funds from the state of Mississippi for various youth-rehabilitation projects.
"The Juvenile Justice Advisory Committee receives federal dollars for programs, and they have to follow a federal mandate. Currently we are in violation of one of the mandates, and that's the institutionalization of status offenders," Martin said. "As result, Mississippi is being withheld from 20 percent of its federal dollars. We really ask the council to consider other options beyond the detention center."
Stokes said the committee would bring the issue up for a vote next week, regardless of whether the county and city worked out an agreement on where to house status offenders.
"We're not going to wait six months on this. We'll either vote it up or down," Stokes said.