Wednesday, September 15, 2010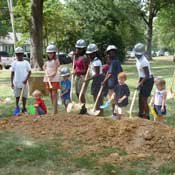 Fondren will soon have a pavilion, playground, walking trails and a community garden in Cherokee Heights Park. City officials, Fondren community leaders and neighborhood children broke ground on the park's renovation at the corner of Dunbar Street and Northview Drive Sept. 8.
The Fondren Renaissance Foundation applied for a grant in 2007 from the U.S. Department of Housing and Urban Development. In 2008, the FRF received a grant for $588,900.
Jackson architect Lawson Newman, who served on the park's design committee, believes the park will become a place for Fondren events—as an alternative location to The Cedars or downtown venues—and a gathering place for the community.
"It's seeing the diversity of this community come together," Fondren resident Leslee Foukal said. "It's a place where we can get to know our neighbors, which I think is huge for the development of this neighborhood."
Foukal says the Cherokee Heights Park renovation is grassroots growth. "I think a lot of it was community involvement and people willing to hold each other accountable," Foukal said. "People who were really passionate about seeing this come through stayed very vocal about it."
Mayor Harvey Johnson Jr. thinks this model of development can be replicated throughout the city. "Fondren is a hot spot," Johnson said at the event. "It's growing, and that's because of the people living here."
The first stage of the renovated Cherokee Heights Park, including sidewalks, lighting, and a pavilion, is set to be complete at the end of February 2011.