Wednesday, September 15, 2010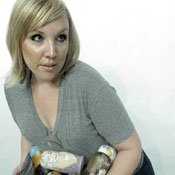 Not only does Ginger Williams-Cook, 29, do portraits, abstract paintings, figure drawings and even artwork for restaurant tables, she is also a dedicated volunteer. She helped start the community art program, LifeShards, at the Mississippi Museum of Art, and she currently volunteers with Operation Shoestring's after-school arts program and VSA Mississippi's ArtBuds, an arts program for adults and children with disabilities. She recently spoke with the JFP about her experiences as an artist and volunteer.
When did you realize you had real talent as an artist?
When I was 21, my mother died and that was probably the turning point that made me a true artist. And that's the most important part in my artistic career and my development, too. ... It quit being academic for me. It quit being about doing so many studies in still lifes or assignments in school.
Did anything change in your art, or did you just start producing more?
Everything changed. Before then, I was very much a perfectionist and I wasn't very forgiving of myself. When I would get to that point of frustration, I would rip up what I was working with. ... But after my mother died, I was so sad, and I was in this almost walking dream state where I had to produce ... and I couldn't produce enough. My entire life became about art and became art. It completely transformed me.
Why do you think you became more forgiving of yourself?
I guess because losing my mother, it was completely out of my control. And I think as a means of survival, as emotional survival, I realized that I had to give up control of all things, but, of course, be smart and be aware. And it very much applied to my art, because being an artist means to be aware and to be observant. And it is freeing when you can be aware and be observant but also give up control, and let things be as they are, and take things for what they are.
After that I started teaching adults and children, and that was one of the most important messages. It wasn't for them to do a technically good piece of art but for them to do something fairly experimental and feel good about the process, ... and it's still my applied philosophy as a teacher, because you can have foundations in art but when you sit down a child with a box of markers or paint, you don't expect them to draw like Michelangelo. You encourage them to just play. I guess I kind of felt like a child again because I started playing and having fun. Everything I had learned at that point was still kind of ingrained in me technically with school. And so I was able to get my own voice.
What do you want the kids to take away from Operation Shoestring's afterschool arts program?
Just for them to reward themselves for the job they've done, and that you can be anything you want to be. I always have a globe in the classroom to show that there's a bigger world outside of Jackson and a bigger world outside of Mississippi. In the South, we often see things as black or white, and I want them to realize there's a bigger world out there--that they can leave their circumstance, ... and to learn as much as they can.
Do you volunteer anywhere else?
I do a program with VSA called ArtBuds. This is my third year doing this. I've been part of it with several of my friends, and we are paired with a child with disabilities. ... Last year I had a child that had autism. He loved to write. He believed in ciphers and all these codes and loved history and really loved Abraham Lincoln. So I got him to fill up an entire canvas with his script, and it's a collaboration project. So with all his words in pencil (I also got him to do all the states in alphabetical order), I drew Mount Rushmore in the middle of all that. It was a really fun project. He actually taught me a few things.
What do you take away from the experience of volunteering?
I'm working with kids, and that keeps me in check and helps my imagination, oftentimes, when it's easy to get bogged down in adult responsibilities. That can kind of freak you out as an artist because there's not always stability. And that's one of the scariest things about being an artist. ... Sometimes I'll look at (the kids) and go, "Wow, on your short time on earth, you've experienced some hardships I can't even wrap my head around." So it keeps me in touch, and also I feel really good about making an impact in my community. That's something that can't be seen, but it can be felt.
Williams-Cook's solo exhibit is at the Mississippi Arts Center until Sept. 30.