Tuesday, September 14, 2010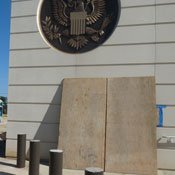 UPDATED 9/14/10 at 5:25 p.m.
An act of vandalism that occurred on the front of the new U.S. federal courthouse on Court Street in Jackson may have threatened President Barack Obama.
On Friday, a reader posted on the Jackson Free Press website that while driving that morning, she had seen graffiti on the building reading "Kill President Obama." By Monday, the vandalism was covered with masking tape and two large plywood boards.
City of Jackson spokesman Chris Mims confirmed that someone had spraypainted the courthouse and that it was about Obama, but referred all additional questions to the Federal Bureau of Investigations.
Tye Breedlove, special agent for the Jackson division of the FBI, said he was unaware of the vandalism but would look into the matter for more information. He also was unaware if the building is technically federal property because it is still in the building stages. Vandalism on federal property is a federal crime.
"Technically, the government hasn't taken possession of that building, so it may be private property for now," he said. "It depends on what (the U.S. General Services Administration) worked out with them."
The GSA funded the $94.4 million project in 2008. The project also received $830,937 through the GSA's American Recovery and Investment Act in 2009. During his state of the city address, Jackson Mayor Harvey Johnson Jr. said the building would open in early 2011.
Breedlove confirmed this afternoon that the graffiti message was "threatening in nature" to Obama, though he could not confirm the exact wording. He said the FBI is still determining if the crime is on federal property. He also said Secret Service is investigating the threat.
Previous Comments
ID

159739

Comment

Let's get attention! Regardless, I only expect numerous lascivious comments concerning this issue because nothing is more dire than confronting unimaginative uncultured graffiti artists and demanding that they change their mind "Clockwork Orange"-style. They need 'healing.' Meanwhile, somebody took a bite out of my new cowboy boots. Steven Haynes can magically link the marks to your 4-month-old puppy and I plan to eradicate this animal thanks in part to State Farm.

Author

jbreland

Date

2010-09-14T14:26:38-06:00
ID

159740

Comment

I didn't know Bubba was a graffiti artist. At least they actually acknowledged that Obama is President, unlike the Birthers. We're making progress people. We've almost reached the promised land.

Author

DrumminD21311

Date

2010-09-14T14:37:32-06:00
ID

159753

Comment

It's sad, but its not shocking

Author

Duan C.

Date

2010-09-15T07:08:01-06:00