Wednesday, September 1, 2010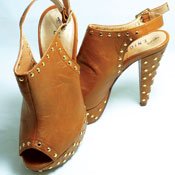 When you're looking for shoes for the fall season this year, whether you're at Maison Weiss, Material Girls or Lipstick Lounge (just a few of FLY's favorite places to shop), there are a few things you must look for: booties, boots and what we like to call razzle dazzle. We found all three elements during a recent trip to Shoe Bar at Pieces. And in case you're too busy to do your own window shopping for shoes at other stores, be anxious for nothing, we'll be pleased to help you throughout the season.
Tip: Don't be afraid to transition summer sandals and peep-toes to fall by wearing them with tight or leggings.
Where2Shop:
Bargain Boutique, 5070 Parkway Drive, 601-99100500;
Half-Half Name Brand Clothing, 826 S. Wheatley St., Ridgeland, 601-206-1689;
Posh Boutique, 4312 N. State St., 601-364-2244;
Repeat Street, 626 Ridgewood Rd., 501-605-9393;
Shoe Bar at Pieces, 425 Mitchell Ave., 601-939-5203;
Tangle Hair Salon & Boutique, 3000 N. State St., 601-987-0123;
Treehouse Boutique, 3008 N. State St., 601-982-3433;
Wilai, 2906 N. State St., Suite 103. 601-366-9955.