Wednesday, September 1, 2010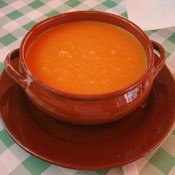 Cold gazpacho just might get us through this hot summer. It quenches that seasonal thirst for tomatoes, cucumbers, bell peppers, and onions blended and marinated in vinegar and olive oil. It immediately satisfies, but you always want more so there is never enough.
Sometimes green, sometimes pink, sometimes smooth as tomato juice and sometimes chunky as salsa, gazpacho is one of the all-time best summer foods. Calling it "cold soup" doesn't do this miracle food justice and terrifies the uninitiated who assume it might be some gloppy mess.
Gazpacho is an old Spanish dish. The first serving was probably an economical solution to the problem of what to do with stale bread. Crumble it up and soak that hard loaf in olive oil and vinegar. Wait a little while, maybe a day or so, and then drink up. Finely chopped vegetables entered the bowl over the years.
Gazpacho is more an attitude than a strict, demanding recipe; I've never had the same soup twice. Everyone has a
different preference: Some prefer more vinegar; some like to use a whole row of saltine crackers in lieu of stale bread.
I suspect some southerners among us might even add sugar to their batch—just a suspicion.
Once, I didn't blanche my onions long enough. The bitter result that came from my blender was a tough lesson. Yet, I couldn't toss it out. I'm that crazy when it comes to gazpacho.
Another time, I served perhaps the most perfect gazpacho ever made to some lunch guests. "This tastes just like V8," one of them said with a grimace, then pushed the bowl away.
While I've known people to use V8 or canned tomato juice in gazpacho, I am not one of them. I love both drinks, but gazpacho is layered with flavor and a little basil or garlic or lemon juice.
Maybe it's an acquired taste. When I make it, I make a large batch, fully intending to let it sit for at least a day in the fridge. Once we get into it, it will be gone. It would taste even better if we could let it sit longer. But it is really hot this summer, and we need some relief now.
Here's a basic recipe you can tweak to your taste.
Gazpacho
6-8 ripe tomatoes, peeled
2 slices stale or toasted bread
2 cucumbers
1 small red onion
1 clove of garlic, minced
2 bell peppers
6 tablespoons olive oil
3 tablespoons balsamic vinegar
Chop tomatoes, bread, cucumbers, onions, garlic and peppers. Place in blender. Blend until smooth. Everything may not fit at once, so take your time and blend in batches. Pour in a large glass or ceramic bowl. Add oil and vinegar. Add salt and pepper to taste. Mix well, cover and refrigerate for at least four hours. Serve chilled. Makes 4-6 servings.