Thursday, October 28, 2010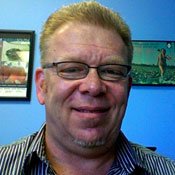 Andy Muchin didn't expect to spend his life researching and writing about his Jewish heritage, but his experiences working at a Jewish community newspaper in Wisconsin became the catalyst for a life-long passion.
"Visiting Israel and actually working at a community newspaper was so interesting," says Muchin, who earned his journalism degree from the University of Wisconsin in 1980. "... I have a passion for learning about Jewish people and explaining what I know and sharing what I found."
After working as a freelancer for Jewish news agencies and publications, Muchin, 52, moved to Jackson from Wisconsin in 2009 to work as the programs director at the Goldring/Woldenberg Institute of Southern Jewish Life in Jackson. The nonprofit institute provides education, preservation and promotes the history of Southern Jewish culture.
Muchin, who has collected Jewish music for 15 years, recently started a radio show, "Sounds Jewish," on Mississippi Public Broadcasting Music Radio airing Sundays from 3 p.m. to 4 p.m. During the show, he showcases Jewish music and recordings of Jewish comedians.
Even though Jews don't officially celebrate Halloween, Muchin has compiled a series of Jewish songs relevant to Halloween for Sunday's show. The songs include European folk music about ghosts, golems and dybbuks--Yiddish for "disembodied souls."
"I work hard on each show to choose entertaining and interesting music--music that always represents several continents, several centuries and several cultures--and put it together in a format that make sense and is entertaining," he says. "I think this show has no religious meaning or intention, it's a show to share Jewish music and culture."
"Sounds Jewish" airs Sundays at 3 p.m. on MPB Music Radio. Stream the show live online or listen to WMPN 91.3-2 on a High Definition radio.