Wednesday, October 13, 2010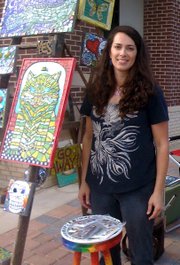 Artist and community activist Teresa Haygood says it's not uncommon for a child to look up from their work In the middle of her mosaic classes and say to her, "Ms. T, I've never done an art project before."
Hearing those words, Haygood is encouraged to bring more mosaic art projects to classrooms across the metro Jackson area. So far, she has led art projects at Bradley Elementary School, Davis Magnet School, Madison Middle School, Mississippi Cultural Crossroads in Port Gibson and the Mississippi Craft Center. Haygood hopes to instill self-esteem and self-expression in her students through creativity.
"No matter where they're from, whatever their background is, whatever their problems or whatever successes they've had, they can express these things through art," she says.
The artist also wants to teach them that life is a proverbial mosaic in progress. "You don't know all the steps … (Y)ou have to work one step at a time," she explains. "And sometimes you don't know what the next step is going to be until you get done with the step you're on."
Not only does Haygood enjoy inspiring kids, she also takes pleasure in paying homage to iconic Mississippians through mosaics. In a recent class she taught at Bradley Elementary, the students created a mosaic of Medgar Evers, subtitled "Remember," which now hangs in the school's auditorium. "We are in what I feel is the promised land, and I want to honor some of those people that gave us our soul," she says of the Mississippians in her mosaics.
Haygood mother was an artist and her father was artistic, so she asserts that art is just in her genes. Haygood grew up in Memphis and moved to Jackson to attend Millsaps College in 1989. She felt compelled to do more than "just" art in college, and after stumbling into the geology department with the encouragement of friends, she fell in love with the subject. After graduation, she worked in the geology department at Millsaps for five years.
Then, Haygood happened upon a book about stained glass and decided to try her hand with a stained-glass project. It turned out she had a talent for the art of stained glass, but the artist also noticed the many leftovers from her projects. Haygood did not want any of it go to waste, so she started using her stained-glass leftovers to do mosaics. That's where she found her true passion. She eventually opened her own studio, aptly named Creative Minds Studio.
She began teaching art classes in late 2005, after a neighbor encouraged her to volunteer with Life Shards—a series of classes that the Arts Center of Mississippi held after Hurricane Katrina designed to figuratively "put the pieces back together" through mosaics. Shortly thereafter, the mosaicist met Sarah Campbell, a local children's author and grant writer, who incorporated Haygood into several grants to go into schools and other organizations in the metro Jackson area to teach the art of mosaic-making to children. Haygood does week-long classes with her students. They make their own mosaics and, usually, come together as a group to do one major installation project, as well.
Free-handing most of her work, Haygood hardly ever begins with an entire project mapped out. "I'll start out with one element of my design, and I'll finish that," she explains. "Then I'll look at what I have down, and I'll be inspired to go either this direction or that direction." She says she most enjoys watching the evolution of a piece and is hardly picky about her medium. Not only will she use other artists' scraps of glass, she often incorporates thrift store finds into her work. Everything from broken crockery to twigs have found their way into her art. She points out a weathered piece of driftwood and a chair leg that served as parts of a frame for one of her pieces.
"You name it," she says. "If it looks right with the piece, I'll put it there."
Haygood plans to continue doing mosaic projects with budding artists, but admits she's slowed down on personal projects since taking a job as the executive assistant with the Mississippi Arts Commission. However, Haygood sometimes displays her work at the Fondren Market and anticipates participating in the Chimneyville Crafts Festival in November. Next spring she hopes to get back into classrooms through JumpstART with Parents for Public Schools along with several other Mississippi artists.
"I want (the children) to see that when they tap into their creativity, it's a release," she says. "There are no rules."