Wednesday, November 24, 2010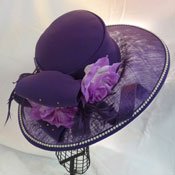 In times past, tradition dictated that a woman of a certain age cover her head when entering a church on Sunday mornings. It all started with the biblical apostle Paul. In a letter he wrote to the Corinthians, he said women should cover their heads during worship service. It's a commandment many women, especially black women, have taken to heart.
During slavery times, one of the ways the women would spruce themselves up for worship services would be to wrap their heads in scarves or add flowers to well-worn, tattered hats.
Hats may have changed, but the tradition hasn't. From relatively modest crowns to ones adorned with rhinestones, fur and feathers, hats spruce up outfits, add allure and tell stories.
"My hats crawl off 'bout every Sunday. It's no way to hook 'em on. One of the members will just pick it up and hold it until I sit down."
—Shirley Gaither, evangelist and pastor's wife from the book "Crowns" by Michael Cunningham, Craig Marberry and foreword by
Maya Angelou (Doubleday, 2010, $29.95)
Where2Shop:
Dress Code, Maywood Mart, 1220 E. Northside Drive, Suite 200, 601-362-3646;
First Lady Inc. Boutique, 211 S. Lamar St., 601-272-5753;
Lil McKH Gallery & Atelier* 200 Commerce St. (above Hal & Mal's), 601-259-6461, http://www.lilmckhjewelry.com;
Tender Moments, http://www.tendermomentsllc.etsy.com
*Please call for appointment.