Thursday, November 18, 2010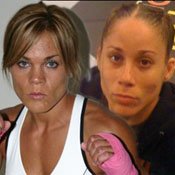 Since its inception, men have predominately ruled the sport of mixed martial arts. Recently, however, a crop of rough and tough female fighters has stepped up to the plate. On the fight card for this Friday's Strikeforce event in Jackson, female fighters Jan Finney and Liz Carmouche will square off in a 135-pound bantamweight bout.
Strikeforce, a mixed-martial-arts organization based out of San Jose, Calif., was the first in its sport to offer a women's bout on a headline card in the U.S. market. The first televised fight was June 2009.
Finney, 30, a native of Springfield, Ohio, presently lives and trains 30 miles away in Dayton, Ohio. She stands 5-feet 8-inches tall and has been athletic throughout her life, working as a personal trainer and pitching for her high school and college women's softball teams.
She made her professional mixed martial arts debut in 2004 at the HOOKnSHOOT fight against Rikki Burnett. Her current record for 16 fights is eight wins and eight losses.
"It's pure competition," Finney says. "It's not like a team sport; if you mess up it's pretty much (on) you. And you're always learning new aspects, techniques and skills. ... It's never ending."
Finney is trained in a variety of sports including Muy Thai, Brazilian Jiu-Jitsu, boxing and wrestling. While she may appear delicate, with her svelte physique and platinum blonde locks, don't underestimate her. She earned her nickname, "Cuddles," after cutting a male fighter's eye and kneeing another in the groin over a two-week period.
"I'm like a bull in a china shop," she says.
If you've ever watched an MMA fight, it's easy imagine the pain that each blow inflicts on the fighter. Finney says she doesn't feel it when it initially happens. "The adrenaline is going. ... It's the day after that you feel like you were in a train wreck. It just comes with territory."
In regards to Friday's fight, Finney feels good about her progression during the last five months of training. She trains six days a week, twice a day. "I'm definitely ready for this fight, for this challenge. I just want to showcase my new skills and tools I've been practicing," she said.
Finney's opponent Liz Carmouche hasn't been in the sport as long, but has won all five of her fights since her professional debut in March 2010. She competed in her first Strikeforce fight against Colleen Schneider in August. She says fans can expect to see a lot of improvement on Friday.
"In the Colleen fight, I don't think I demonstrated how much skill I actually have,' she says.
A former U.S. Marine, Carmouche was involved with martial arts as a child while growing up in Okinawa, Japan, but decided a year ago to pick it up again. "I wanted to do something to challenge me and get me back on track with martial arts," she said.
Carmouche trains in San Diego, Calif.; where she is a full-time student and trainer at her gym. She trains five hours a day, every day and has earned the nickname of "Girl-rilla."
"There's been a few men that also go to the gym, and it would just seem that whenever I would get them against the cage or get them on the ground I would just beat them so bad that I looked like a gorilla," she says.
Carmouche, 26, stays active outside the ring by snowboarding, surfing, riding her motorcycle and even skydiving. She says she has aspirations to continue fighting for the next five to 10 years. "I definitely think I'll be fighting still," she says. "I hope to be training as a full-time trainer at the gym and be done with my degree."
For women thinking of joining this high energy, full-contact sport, she has words of advice: "Live by the fact that 'can't' is not a word in your vocabulary."
The headlining main card for Strike force in the men's division is Shaolin vs. Wilcox. Hometown fighters Wes "The Perfect Storm" Shivers, Anthony Mitchell and Ken Duboise will also fight against separate opponents. Read "Saved by Grace" the 2009 JFP story about Shivers.
Strikeforce is at the Jackson Convention Complex (105 E. Pascagoula St.) Friday, Nov. 19. Doors open at 6:45 p.m. with the non-televised cards starting at 7:30 p.m. and the main card at 10 p.m. Ticket prices range from $23-$98 can be purchased at ticketmaster.com. For more information visit the Strikeforce MMA website.